Women's fur coat is one of the most beloved types of clothing for modern women and girls. Many people buy faux fur coats, but even more beauties order sewing a mink coat. A mink fur coat is characterized by maximum weightlessness and this is felt especially in winter, when, at will, you want warmth and weightlessness without unnecessary load on your shoulders.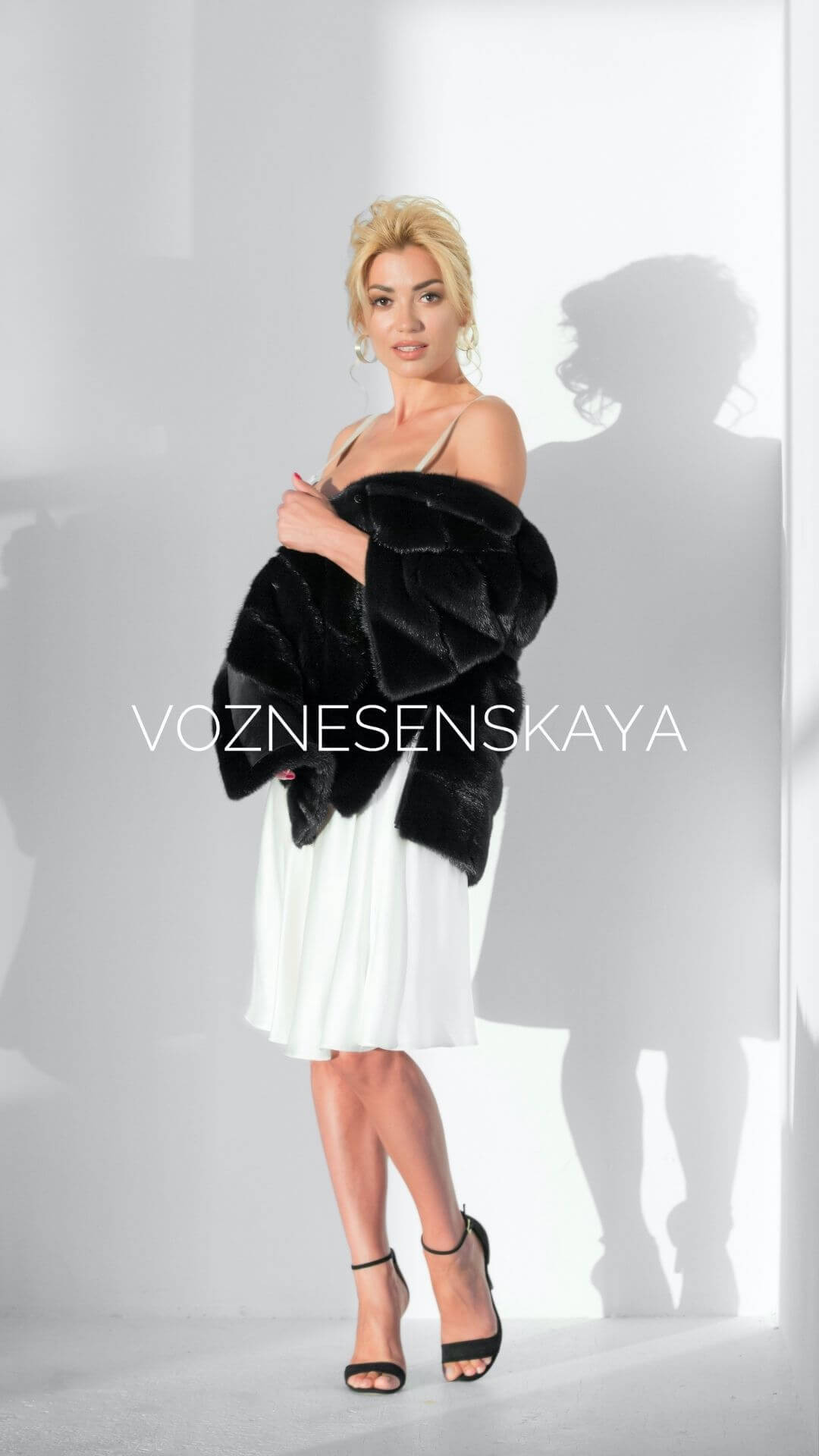 Why tailoring a mink coat?
This fur is in good demand among Slavic ladies. A mink coat has a reasonable cost and a noble, not long pile. Mink, the most practical, is very resistant to temperature extremes, if the mink is of very high quality, then the guard pile does not break, does not turn yellow, does not turn green, does not turn bald in places of friction - even after 20 years. The best and only correct choice for sewing a mink coat is a high-quality purchase of raw materials. If you initially do not like the quality of the raw materials, then the fur coat will not be desired later. Therefore, we offer you a choice of the most varied fur, which is purchased by our buyers. Which are constantly participating in auctions. And they are actively purchasing fresh raw materials with the purchase of unique varieties of mink.
In global trends for 2021-2022, there is a trend of very thin and low undercoat in furs. For example, we have in stock an exclusive variety of doubleface mink, mink - nubuck, suede - mink, impregnated mink, mink - velor. This uniquely developed method for mink skins is carried out in France using a patented technology. This mink is impregnated against rain and sleet. Sewing a mink coat made of double-sided raw materials has a unique lightness and warmth. The product turns out like a sheepskin coat. The trend of future seasons is — sewing a sheepskin coat, sewing a fur coat from the thinnest mink skins or double-sided sheepskin material, as well as from double-face mink and sheared mink and of course the finest sheepskin skins of lamb and the most delicate goat. Our studio produces high-quality, professional sewing a mink coat.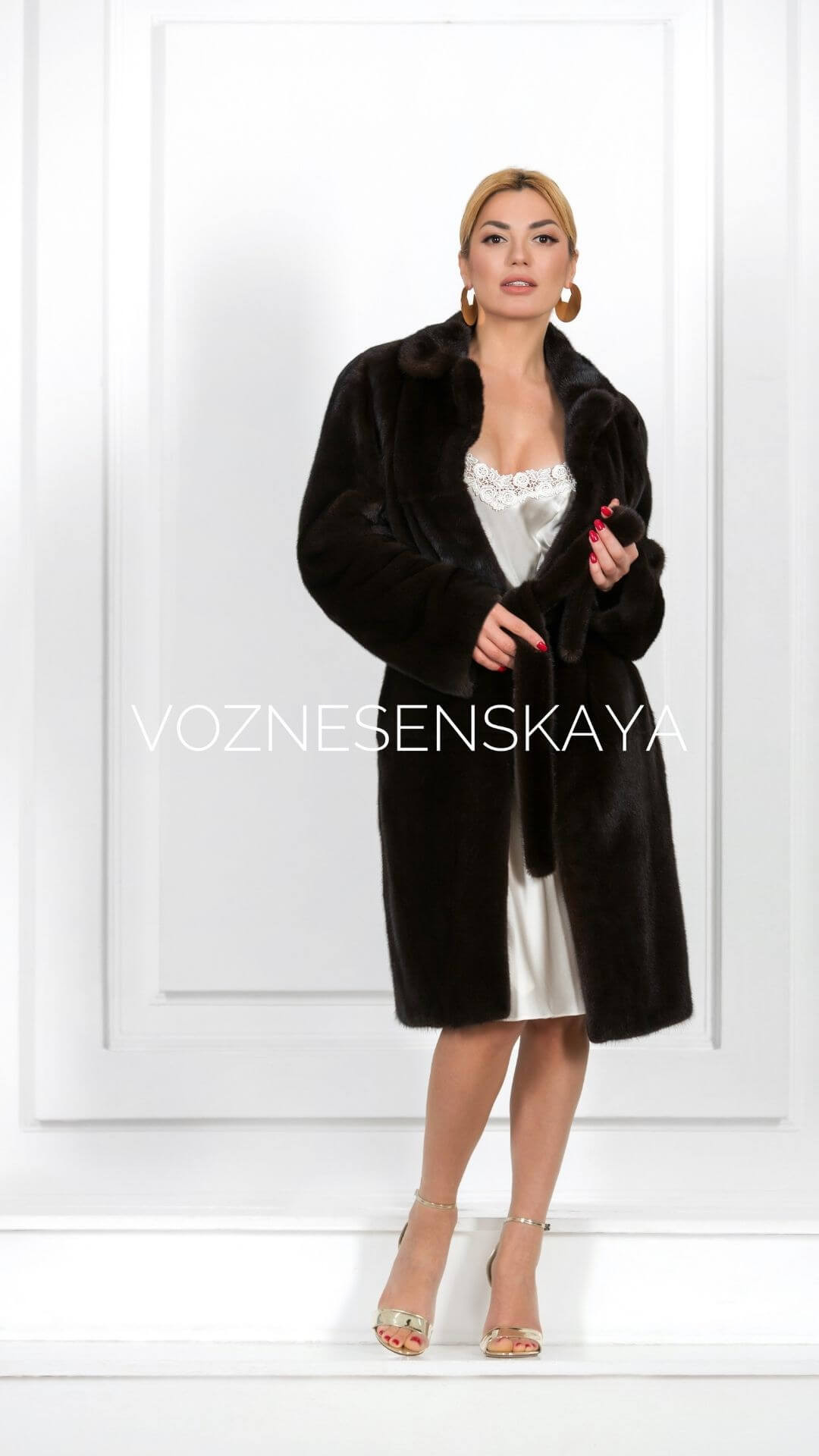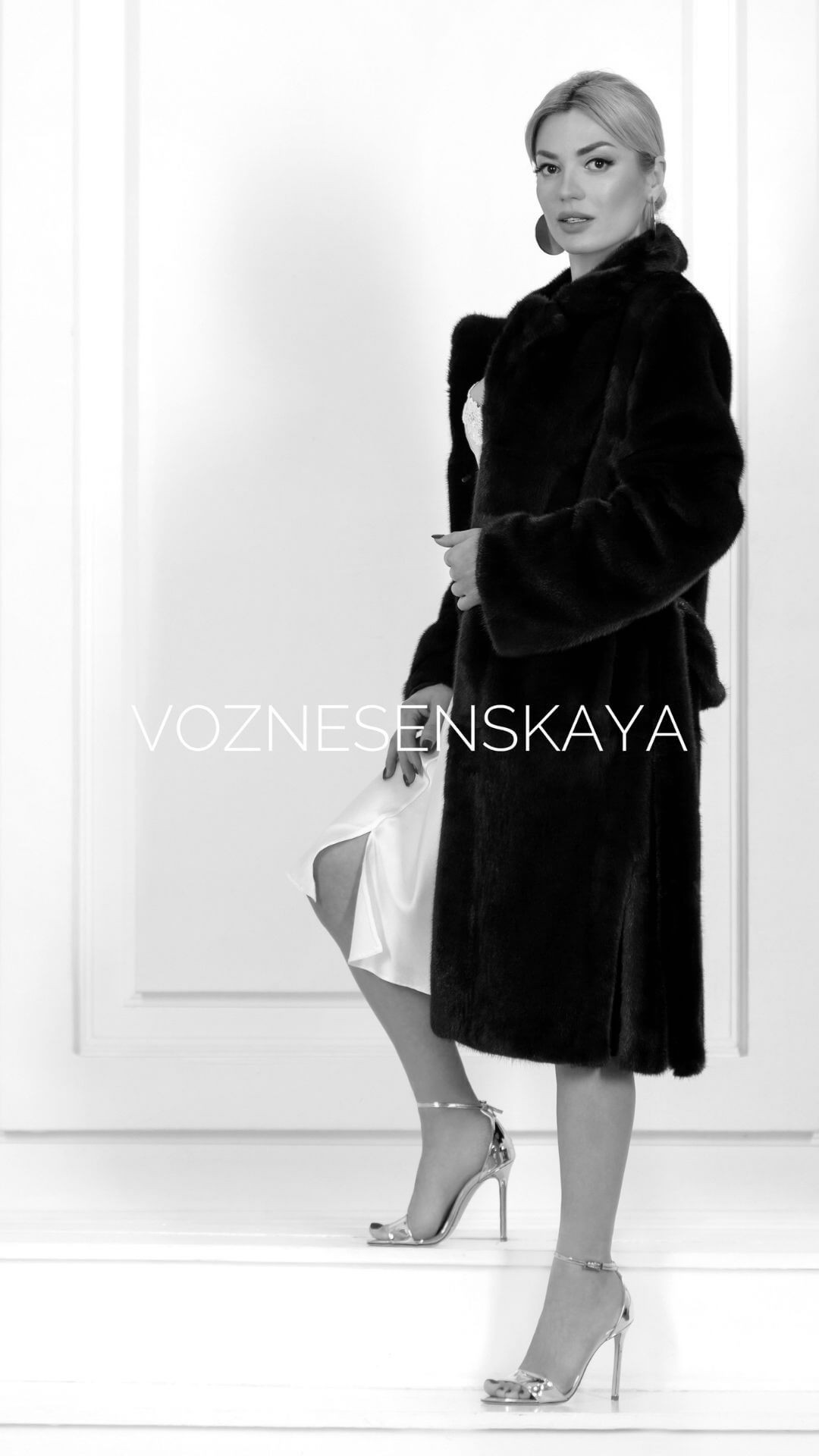 Types and quality of raw materials for sewing a mink coat
Basic classification of MINK:
Black
Mahogany
Brown
Pastel
Palomino
Pearl beige
Golden pearl
Pearl cross
Black cross
Sapphire cross
Silverblue cross
Sapphire
Silverblue
Blue iris
Jaguar
Violet
White
Dawn
Palomino cross
Pastel cross
Platinblond
Redglow
Stardust
Blue iris cross
Violet cross
Following the fashion trends, the leading animal farms breed rare varieties of mink with a very short pile and a plush down with a low guard pile by the method of crossing. World producers are engaged in the development of new unique varieties of mink. These top lot varieties are very popular throughout Europe. Lots with exclusive sets fly off the auction very quickly. It often happens that the hatching of a particular mink variety is no longer supported, since it has a unique color, color, pile length and skin size. The short-boned mink was bred for regions with a less frosty climate, as well as with fluffed down for regions with severe frosts. The most famous brand has a distinctive high quality popularity — black brilliant. It is a deep black mink color. BLACKGLAMA variety, this brand has merged with the NAFA brand and continues the activity of high-quality, North American raw materials grown in the United States and Canada. The Black Diamond was bred by rare crossbreeding of exclusive shorthaired fur. In the world of a real black diamond, only 2%. Blackglam Top Lot — it is a black ebony natural color that practically does not fade in the sun and does not wrinkle. BLACKGLAMA mink, and now BLACKGLAMA / BLACK NAFA label is very practical and non-kill fur. A check for the authenticity of the life's number is already being carried out on the official NAFA website. The best tailoring of a mink coat made of high quality furs.
The auctions we use for sewing mink coats:
AMERICAN LEGEND ALC - Seattle auction;
NAFA - North American auction;
KOPENHAGEN FUR - Canadian auction;
SAGA FURS - Finnish fur auction;
SOJUZPUSHNINA - international auction;
FUR HARVESTERS AUCTION INC - Canadian auction.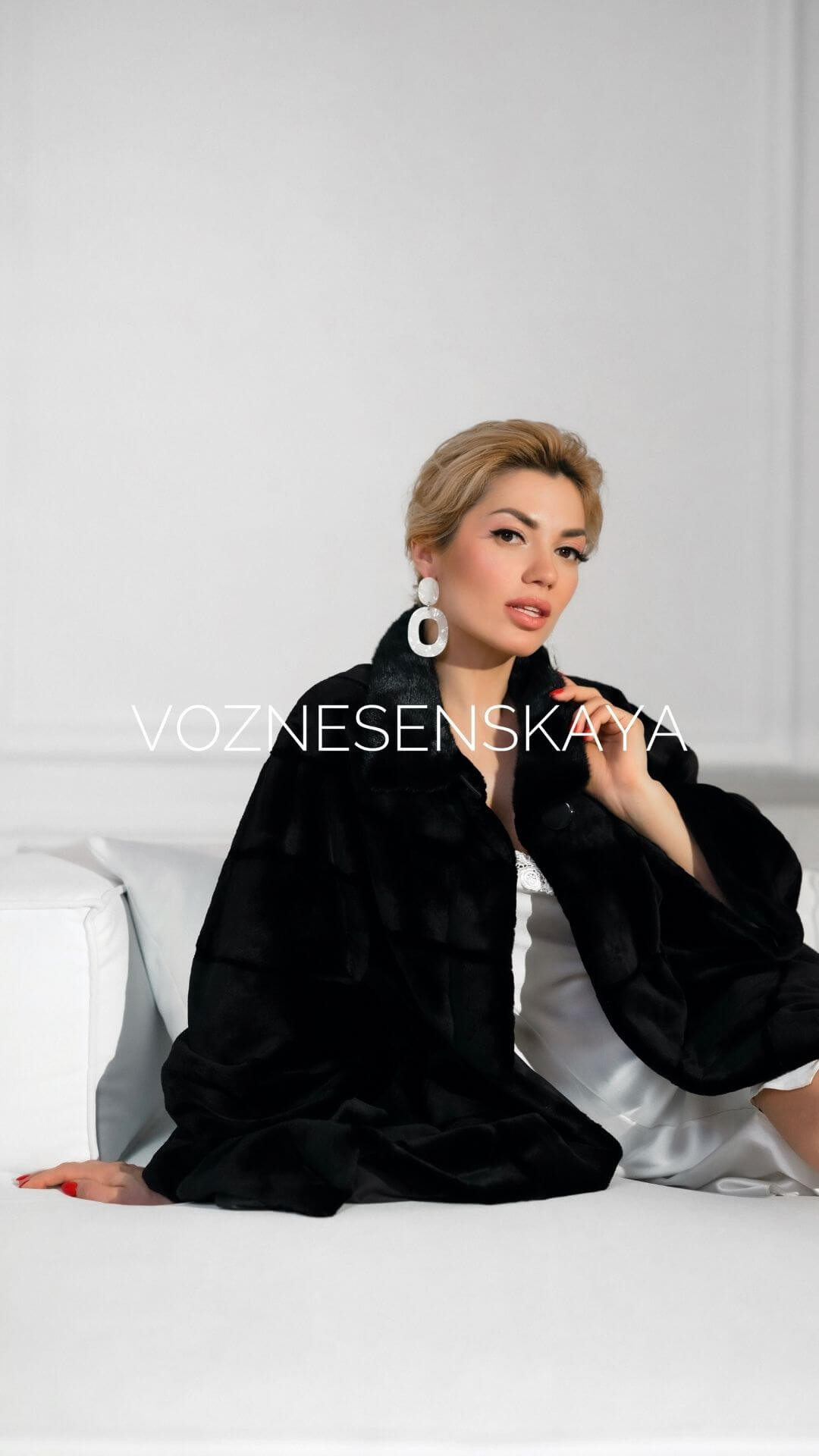 Where does the sewing of a mink coat begin?
Any sewing a mink coat always starts with choosing a style. To make your dream fur coat. We recommend that you apply for the development of ideas and a sketch for your future mink coat directly to the furriers - the masters of the Voznesenskaya Flag House of Fashion. You can choose a style from the latest fashion magazines, talk to a designer, fashion designer, stylist, who will help you decide on the layout of the skins.
Types of fur layout:
vertical;
horizontal;
transverse;
arc;
inlaid.
In addition, you will be presented with the most modern methods of assembling and processing fur:
dissolution;
perforation;
having grown;
draft;
spike;
whitening;
toning;
a haircut;
pinch;
laser;
treatment;
burning out;
perch color.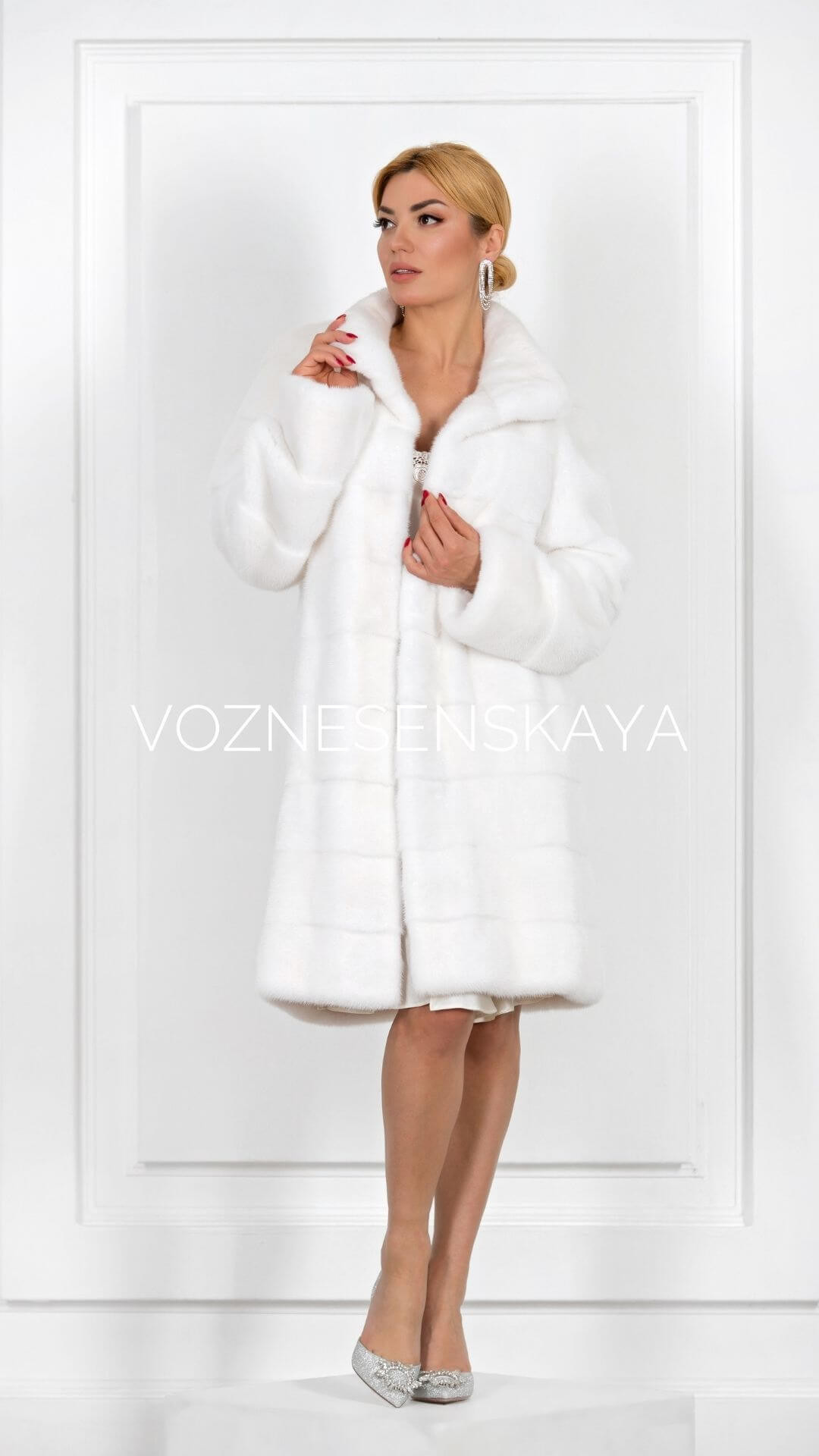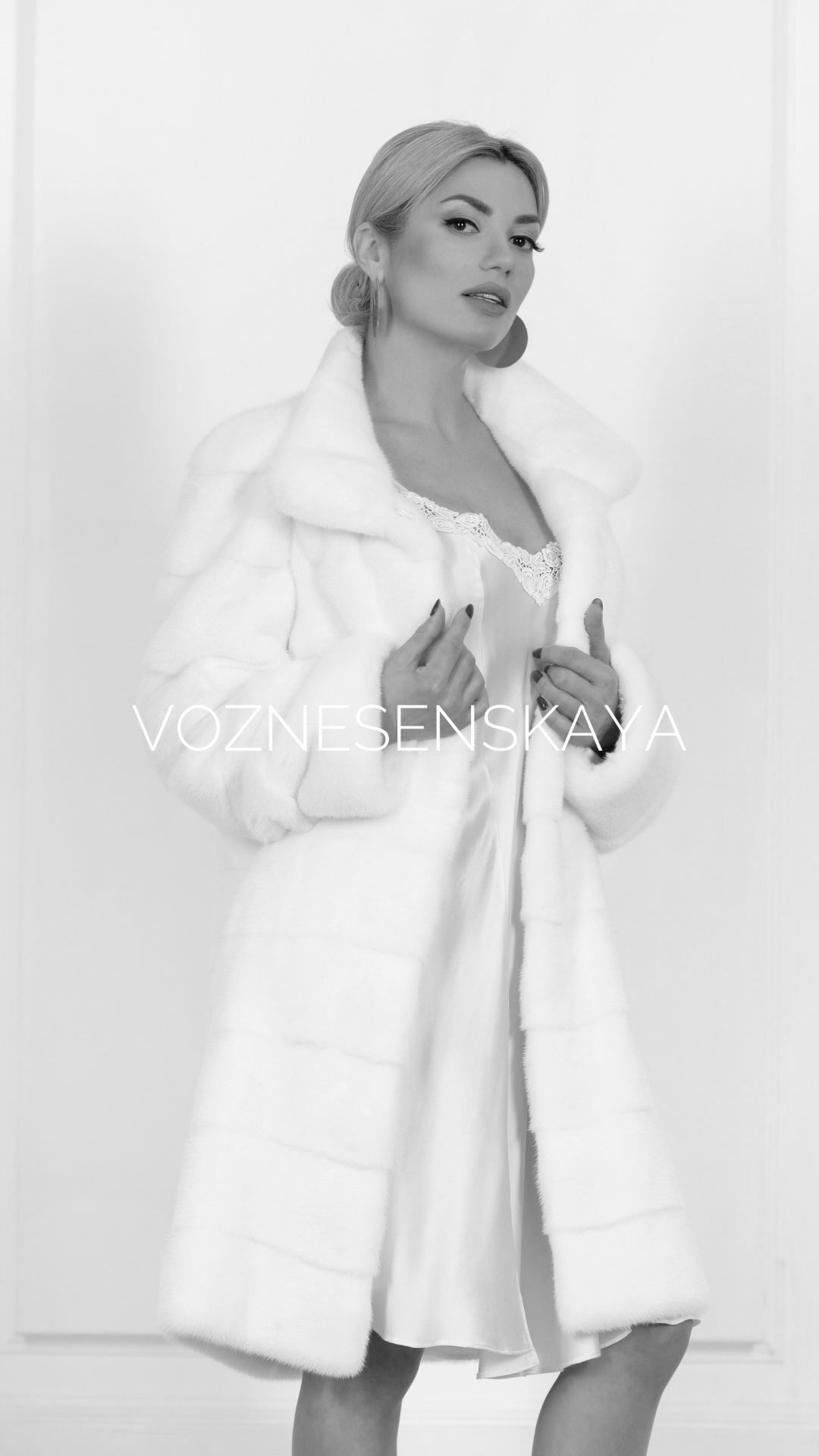 Stages of sewing a mink coat
After choosing a fur cove from mink or other kind. Sketching and approval of the silhouette is going on in parallel. High-quality measurements are taken for sewing a mink coat. Such measurements differ from usual measurements for fabric, leather, and even more so from knitwear or light dresses.
The next stage is — making a layout. The designers develop a mock-up made of fabric, assemble the silhouette in detail, elements that you want to see in a fur coat. The balance of the product in the layout is being developed. All flaws and shortcomings are eliminated. All the wishes of the client and the recommendations of furriers (fur masters of the highest category) are entered and, with all these edits, transferred to clean, individual patterns — only for fur! There are serious nuances in these patterns, and their development should be carried out by a master - designer only for furs!
After prototyping, the stage of furrier work begins, this work is especially for a furrier in assembling and sewing fur products. Selection of skins for the product and dressing of skins using environmentally friendly fatty ingredients before sewing — this is an integral part of sewing a mink coat. The furrier grinds down the fur coat with a seam from 0.5 to 0.7 mm on a qualified furrier machine. The furrier prepares all work for high-quality dry cleaning of a fur coat. After all the processing and assembling of the skins into a product, the sewn fur coat goes through the factory — real, two-phase cleaning with eco-rolling in beech sawdust with a special fraction for expensive fur. The fur coat is polished, fur fluffing.
After all the SPA procedures, it is possible to try on a semi-finished fur coat. The finished product has a slight difference from the layout, this is the length of the pile and other delicate points, we carry out the finishing fitting for better attention to the customer and the accuracy of the work in the product. After a good fitting, the fur coat is finished with all the filling lightweight Italian, French fur materials. Absolutely 100% manual assembly of filling a fur coat with lining, fur hooks, fur clips, buttons, elastic bands, clamps, edging, guides for fur is carried out. Custom-made knitted ties to match the color of the underfill or guard pile. For some models of mink coats, zippers are sewn in, filling with various decorations is also possible. Warm — velvet thin pockets. For each style there is a variety of Italian, Belgian, French, branded accessories and finishing materials exclusively for fur.
Finish of work — this is the issuance of a finished product with a guarantee and a quality certificate from 2 to 10 years from the grade of mink or other fur raw materials. In our studio there are absolutely all kinds of numerous methods of high-quality assembly of mink or any other type of fur. The best professionals in Ukraine will work and communicate with you. Of course, at a personal meeting, you can express all your wishes. Our experts will definitely take them into account!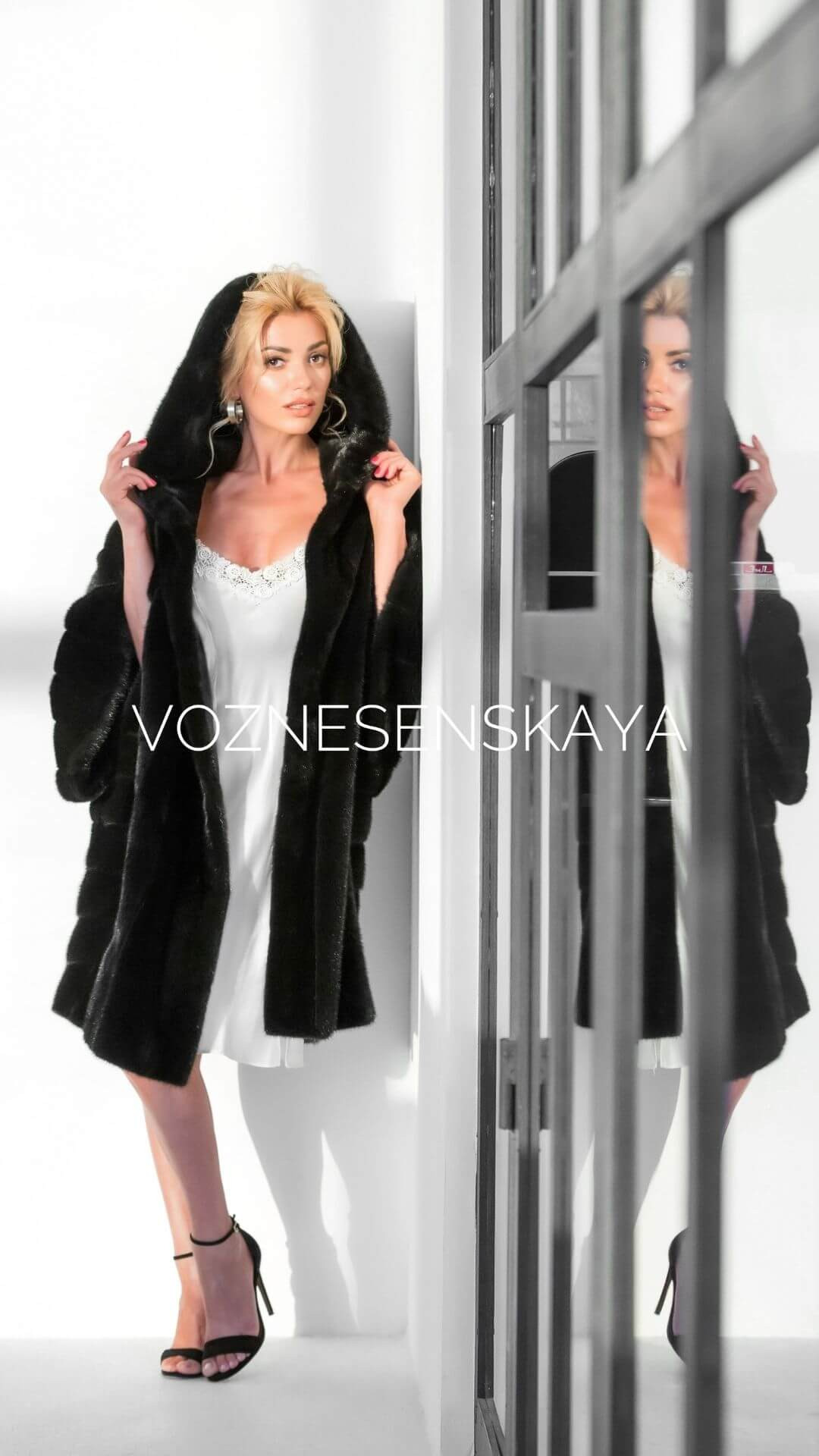 Why should we be entrusted with sewing a mink coat?
We offer to use first-class professional furriers at the Voznesenskaya Flagship Fashion House — it is a trendsetter in the fur industry of Ukraine. We provide a guarantee of perfect tailoring and a high level of fur service. Voznesenskaya's flagship Fashion House offers the best fur sets for your future gorgeous fur coat. The range is simply huge! Mink skins and a wide variety of furs from the classic look to the ultra fashionable variety and shade. In the presence of silvery shades of raw materials up to ultra gold overflow, mirrored skins, as well as silver and classic Swakara, broadtail and astrakhan fur. Sable — skins of all kinds of shades and gradations with silver-strewn gray hair from level 0 to level 5, chinchilla of various breeds, arctic fox, fox, lynx and trot-like cats. We provide training on the correct operation and storage of fur coats. We provide consultation and expert assessment of fur. We check the labels for the authenticity of skins from different types of fur. We offer professional storage of a fur coat in special refrigerators. The season starts at the end of May and lasts until the end of October. We have a variety of fur lining with a special weave and color gradation. In our Fashion House Voznesenskaya you can carry out sewing a mink coat at 0% installments from 2 to 6 months. Sewing a mink coat can be executed in more than 500 model variants. To your attention various colors from the best world buyers. Our atelier can produce an individual sewing a mink coat. Deep knowledge of the specialists of the Voznesenskaya Flagship Fashion House in the world of fur and vast experience of working with fur — guarantee of high-quality and unique tailoring. The number of options is very large! It is possible to use combi, fur and lace, embroidery, fur in combination with chiffon, more traditional — fur and leather, fur and beautiful decorated braid. Perforation in leather, inlay on a fur coat, and many, many other treatments, which we can list endlessly, are also possible. Or maybe just one fur and no combi!