You are established in your desire to sew a mink fur coat - this is a very important and correct decision. But there are always many questions: what, how, where and how much? While you were thinking to sew a mink coat or not, you are sure that you have repeatedly asked yourself (and, perhaps, others) a lot of questions. What style to choose for sewing a mink fur coat? How to choose the right mink color? What kind of fur layout is better to use? What cutting methods are used for minks and how many skins are required for a given cut? Which one to prefer - males or females? How much time will it take to sew a mink fur coat? What accessories are better to buy? What are the common mistakes when sewing a mink fur coat and, in general, what are the rules for sewing a mink coat? And finally, what is the price of sewing a mink fur coat?
All these questions in this article are answered by certified specialists of the Voznesenskaya Flagship House of Fashion: fur masters – furriers with experience since 2006, the deepest knowledge of fur and leather processing.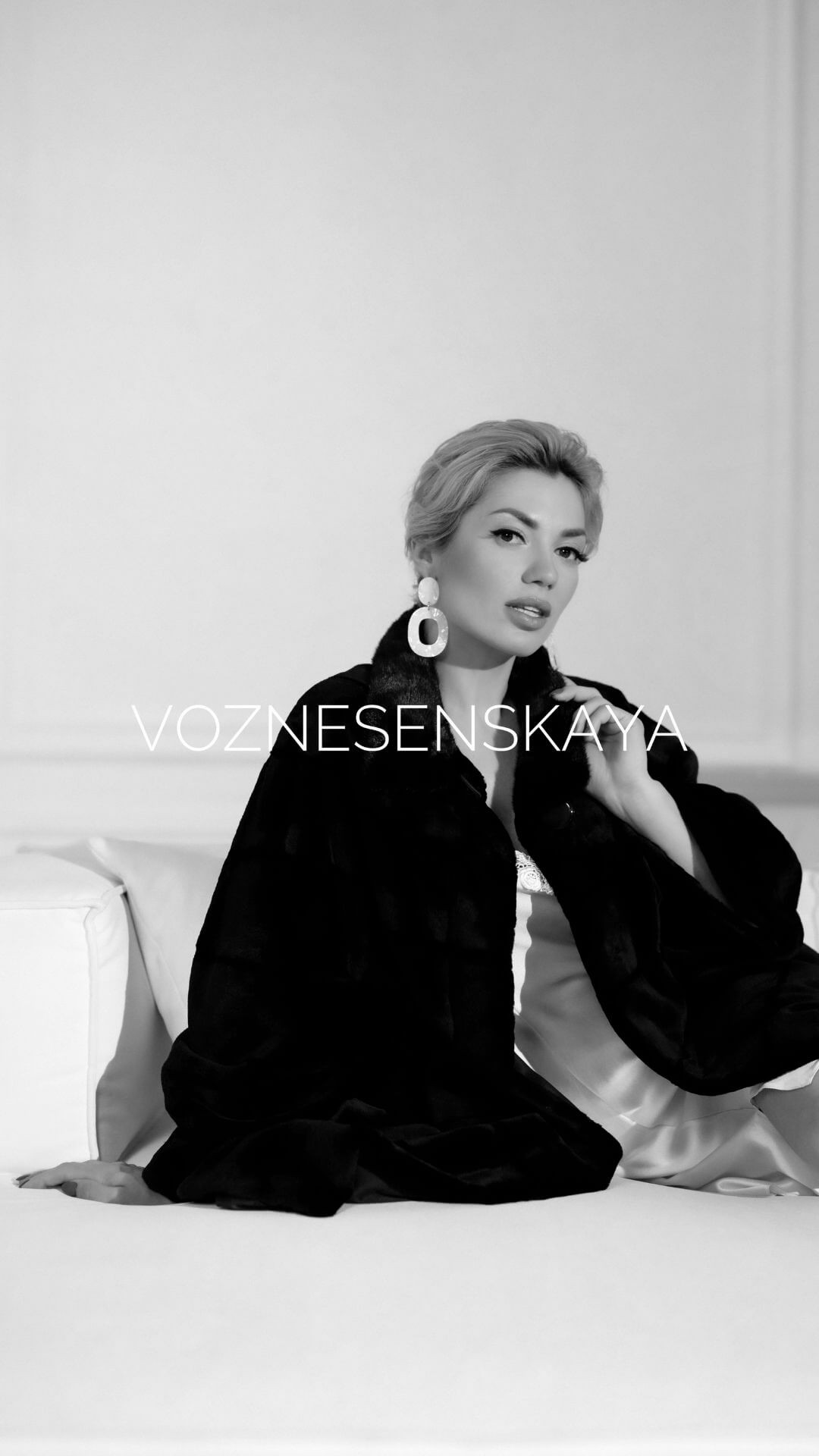 Sewing a mink fur coat: answers to questions
You can talk endlessly about the styles of mink fur coats. Since mink is one of the most common types of fur, there are many models for sewing. Short-haired mink does not add extra volume to the silhouette and takes any shape. From trapezoidal fur coat – bell to a fitted elongated jacket. The length can vary: to mid-thigh, to the knee, to the knee, to mid-calf, to the floor. By the way, it is very important to choose the correct length of the mink coat, this is the only way the product will look harmonious. The masters and designers of our fashion house will help you with this, taking into account your height and all the features of your figure. Also, by playing with the direction of the pile, you can visually narrow or expand a given silhouette. It can be a special cut according to your order, for example, an autolady. It is cut with a reinforced backrest and a higher armhole and a special sleeve to facilitate driving. In this fur, any models are successful: from strict classics with raglan sleeves and a flare from the chest or sports classics with a dropped shoulder, on a drawstring at the bottom, and with a hood. Up to the most fashionable silhouettes: with a peplum and three-quarter sleeves, tight or, on the contrary, «keg» - loose and off the shoulder, making it possible to wear with your favorite scarf or jeans.
All possible options for a style suitable for you will be gladly offered by the specialists of the Voznesenskaya Flagship House of Fashion. You just need to come to us. Call and be sure to come as soon as possible!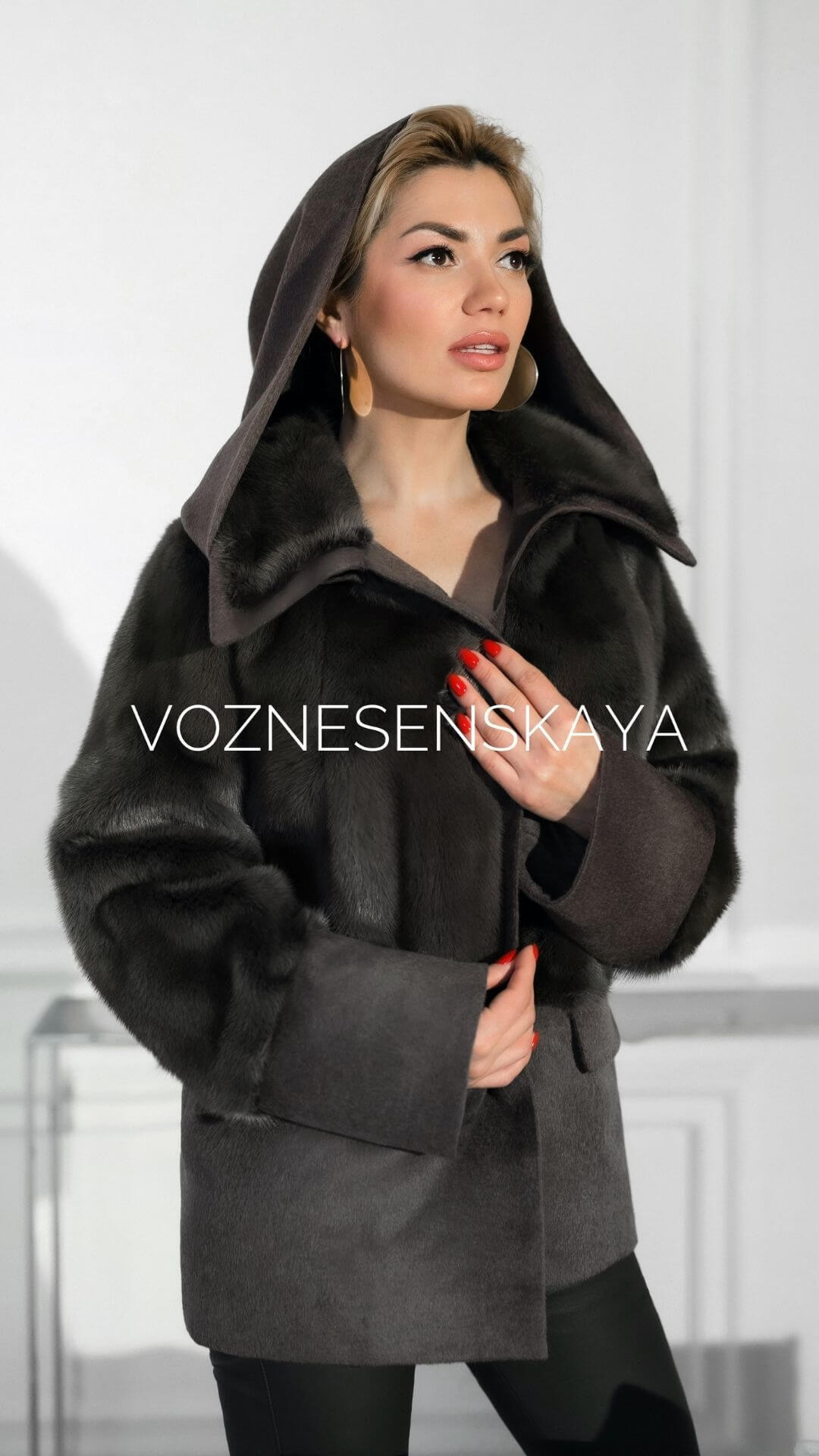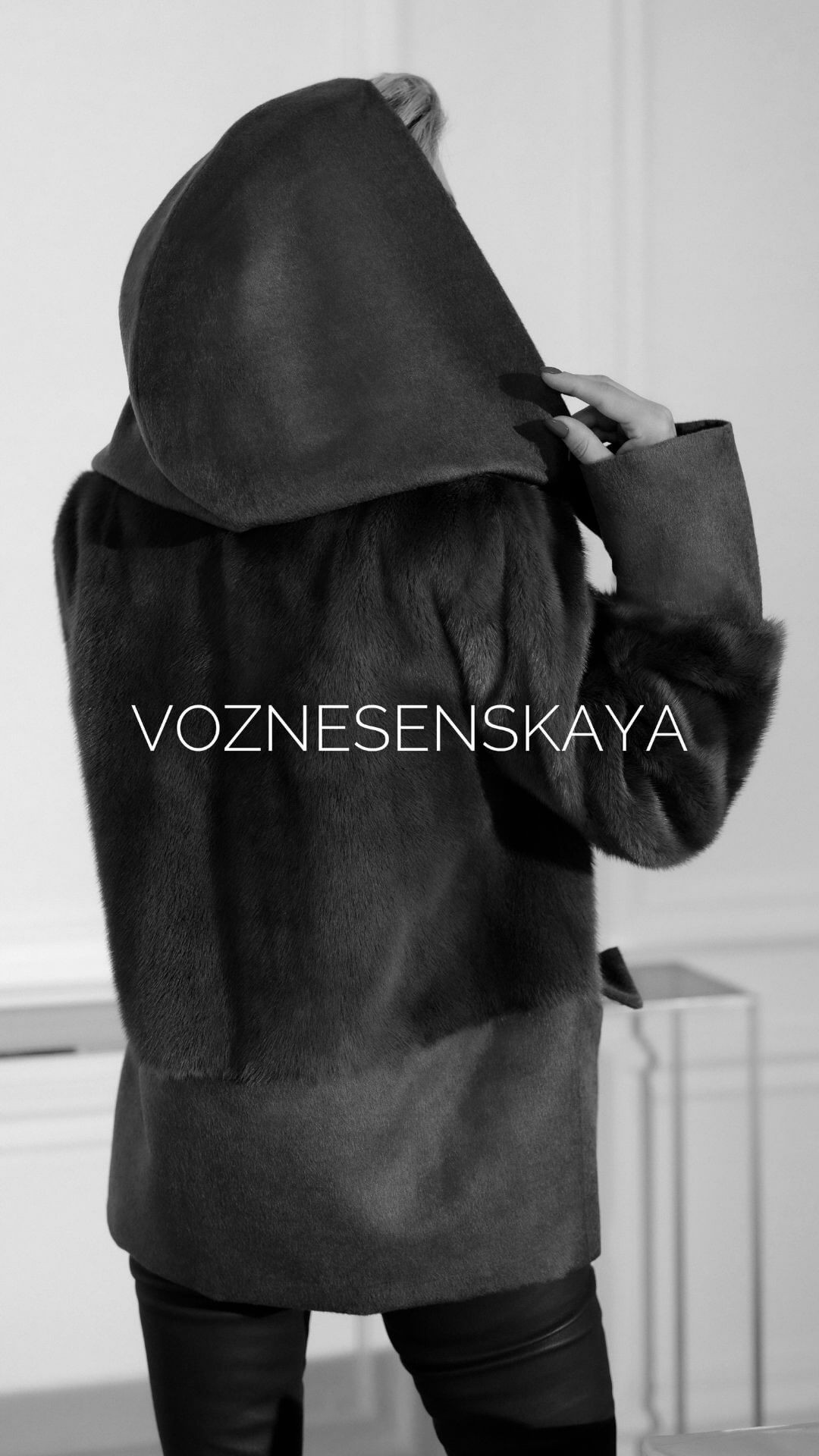 What color can you sew a mink coat?
Our designer will make a sketch for you for a more complete visualization of the silhouette and will help to emphasize the dignity of the figure and all the beauty of your chosen fur. You can also buy or order fur from us - the choice is huge!
The color palette of mink is very diverse. From completely natural shades to coloring in any desired color.
Natural colors are arranged as follows:
SCANBLACK;
MAHOGANY;
SCANBROWN;
SCANGLOW;
PASTEL;
BLACK CROSS;
SILVER CROSS;
SAPPHIRE CROSS;
DAWN CROSS;
PEARL CROSS;
VIOLET;
SAPPHRE;
SILVERBLUE;
BLUE IRIS;
PALOMINO;
PEARL;
GOLDEN PEARL;
JAGUAR;
WHITE.
These are the main known auction names for mink colors and shades. What color to choose to sew a mink fur coat, depends on you and your color type. Recall that 90% of people are divided into four main color types – it's summer, winter, autumn, spring. But there are also intermediate and mixed ones. Understanding the aforementioned data, our designer and colorist will help you choose cold or, conversely, warmer shades of fur. And, perhaps, it will be something neutral - suitable for everything and for any occasion.
There is an opinion that dyed furs are less wear-resistant. And indeed it is. But we are not talking about several years, but rather about a difference of several months. Moreover, modern dyes are of much better quality and less destructive for delicate leather tissue. So, if you really want to sew a mink fur coat in the color of dark emerald or inky violet or the color of Bordeaux wine, do not deny yourself what may suit you and will, indeed, be beneficial to distinguish you from gray mass of different furs and fur coats.
Remember the words of George Bernard Shaw: "Do it to get what you want, otherwise you have to love what you get."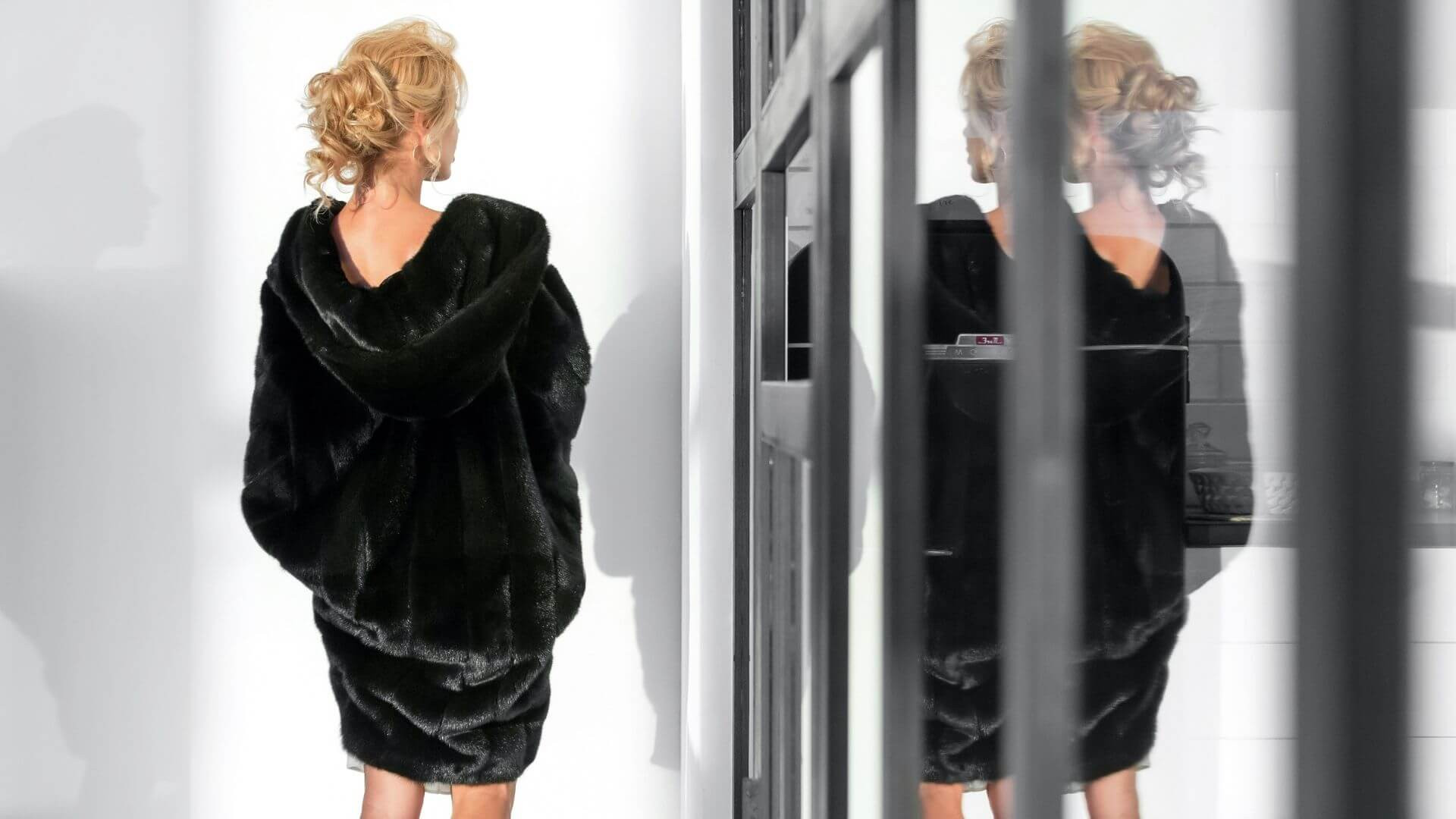 Sewing a mink fur coat - there are nuances
Mink, like any fur, has a clear direction of hair and a corresponding shine when refracted. The appearance and visual form depend on the refraction of fur. There may be more gloss or, conversely, there may be dullness. A combination of both options is also possible.
The fur can be laid horizontally, vertically, at an angle or hair up. In addition to the classic options, there may be smooth lines repeating the contours of the body or combined calculations: for example, to the waist - vertical, and the skirt - at an angle of 30 degrees. This shapes the body by lengthening the legs and emphasizing the line of the chest.
In addition, if the mink has a pronounced ridge in the contrast of colors, this can also be used as an additional decorative element. If the skin is cut in the middle of the ridge and sewn in order «belly - ridge», then we get stripes of dark and light fur. With such stripes, you can diversify the style or use it partially in a cut.
All of these manipulations lead to one or another configuration: from a classic lady in a long coat to the floor to a boyish silhouette or a light asymmetrical scattering for jeans. Absolutely all types of mink obey these rules. Which layout to choose for you, so that to sew a mink fur coat, will be seen on the first fittings with raw materials available. Or by laying out and pinning fur on a mannequin. We will be happy to demonstrate our skills to you in practice - in working with this noble fur!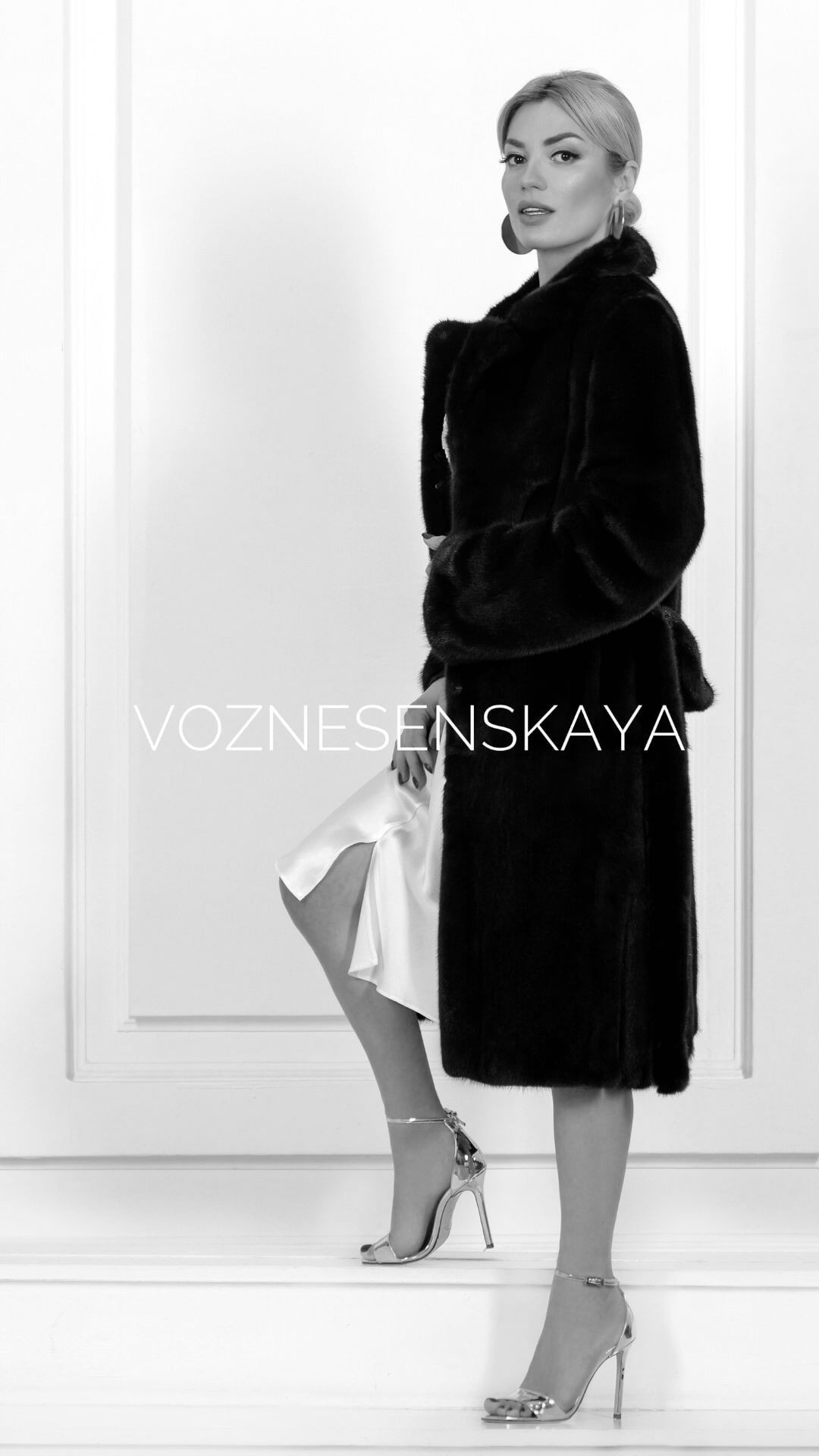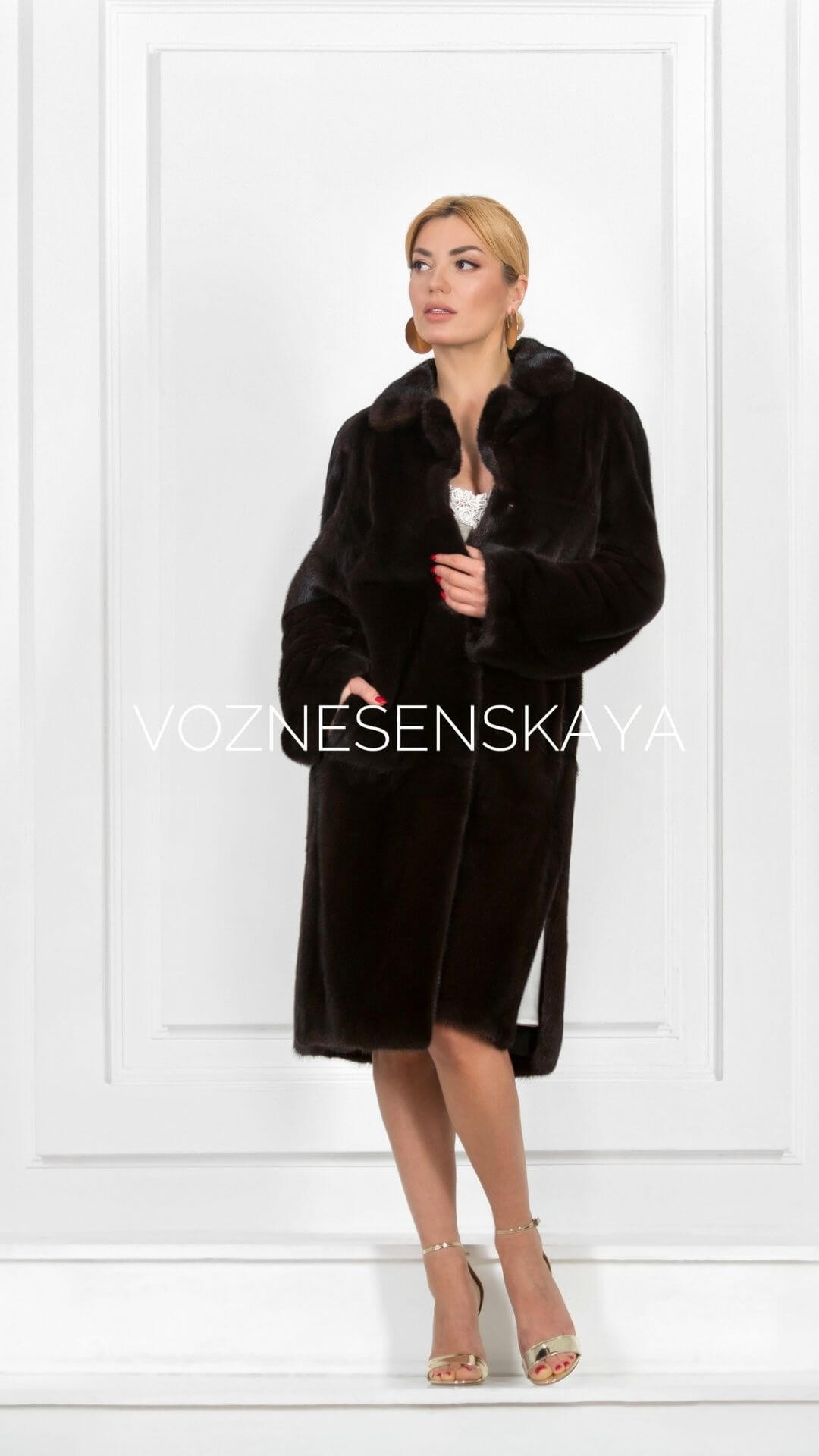 Exclusive tailoring of a mink fur coat
Sometimes you want the impossible or something that cannot be at all in the world. Considering our many years of experience in working with mink, all the wishes of our clients are achievable for us!
Let's say you want to sew a mink fur coat without a single seam and at the same time for the knee or even in the floor. And so that the length of the skins is not visually limited: recall that the maximum length of the mink is usually up to 70 cm, and the product itself can reach 1.4 meters (that is, 2 times longer than each skin). What to do in this case? Of course, the first step is to contact the Voznesenskaya Flagship Fashion House.
In this case, our craftsmen use complex cutting methods: such as loosening fur, soldering, perforation and other methods depending on the client's request.
Dissolution – this lengthening of the skin due to its width using the most accurate mathematical formulas and processes that allow lengthening to the nearest millimeter without losing precious area and avoiding transverse seams. Such work is very painstaking and requires concentration and knowledge of his craft from the master, but the result justifies the means. The number of skins remains the same as with a regular cut, it is not the total area that changes, but the location of the seams. But it should be understood that such work takes longer than usual time and is therefore more expensive.
In the Voznesenskaya Flagship House of Fashion, they master all possible cutting methods in order to to sew a mink fur coat and sewing mink fur coats. We will be happy to offer you exactly those methods that will be appropriate for making the cut in the desired product.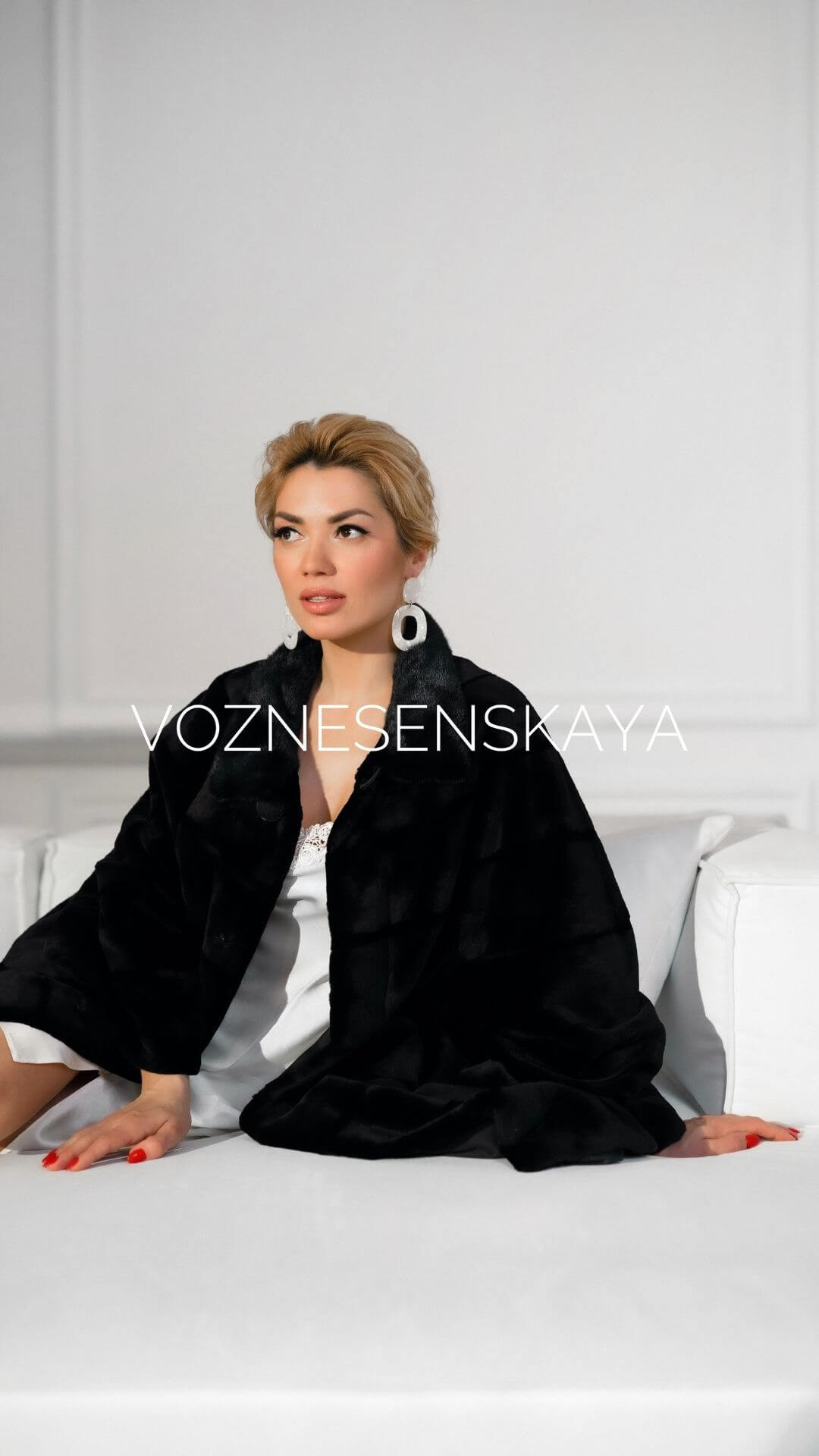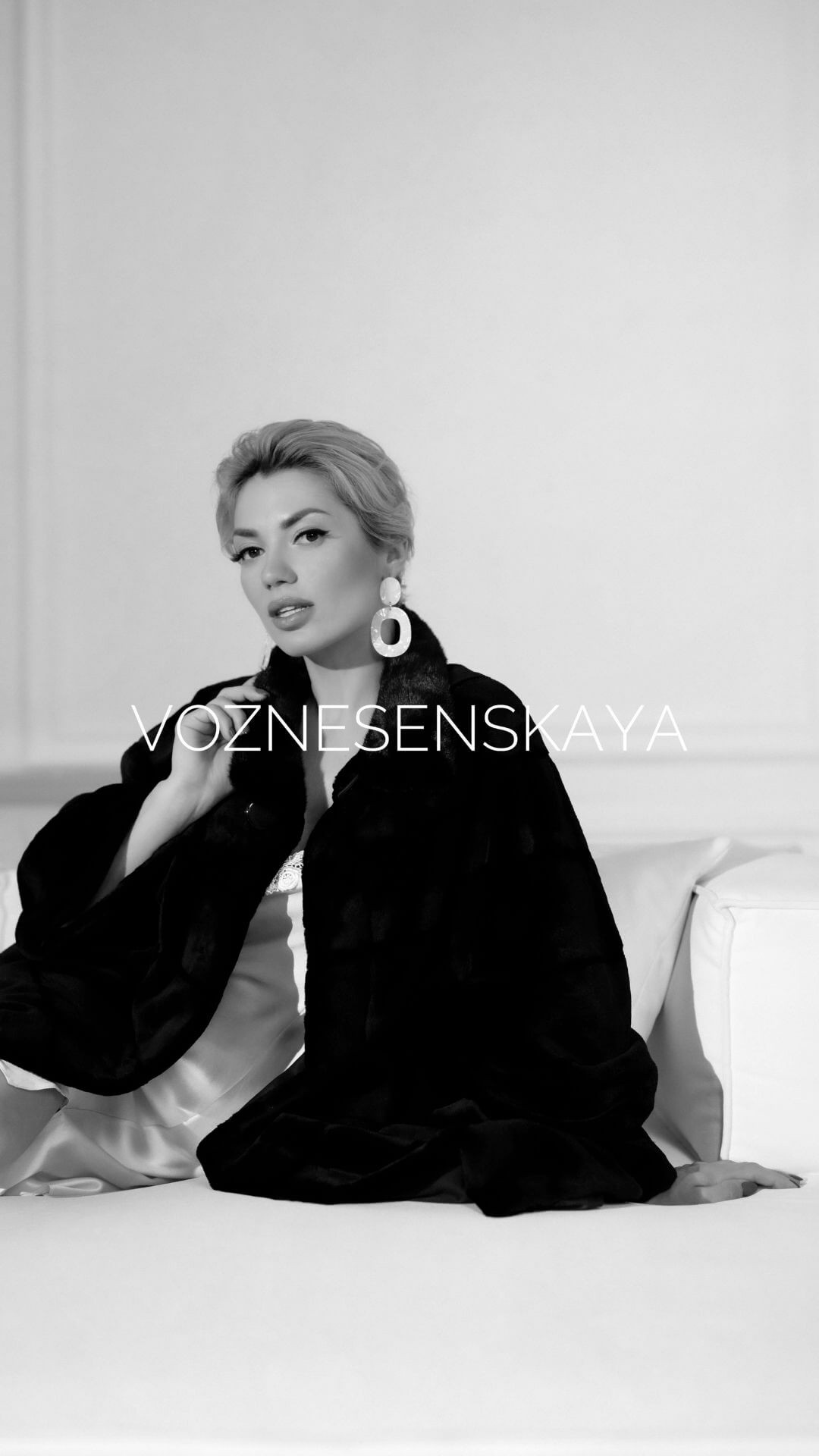 What other nuances are there when sewing a mink fur coat?
Let us also clarify the details of the cut: how much they are needed for your product to fit beautifully on the figure and stay on the shoulders. So, we will definitely need: shelves – as a rule, there are two of them (left and right), a back (one with a fold in the center), sleeves (left, right), and, of course, a chic collar (or, perhaps, a hood). But this is not all the details of the cut - these are only visible parts of it.
Without the use of invisible parts - no less important, the fur coat simply will not sit down, and, in general, will not function as expected. You will definitely need a selection - at least 4-5 cm, the fold of the sleeves - not less than 3-4 cm, the fold of the bottom of the fur coat - 2.5-3 cm, as well as the inside of the pocket, if any, called the facing. If there is a collar, there should also be a lower collar - one that is not visible. Or, if a hood is used, then the inside. All these necessities are necessary for the product to fit well, to serve for a long time and to look expensive!
Only with a critical shortage of fur or other factors, economic options are possible. For example, if the length of the product is not enough, then it is possible to do without the hem along the bottom, and make a roll of only 0.5 mm. Or not to make the inner hood, but to process the inside with the same lining as the fur coat - this is quite appropriate if there is a small edge of fur passing into the inside of the hood. Alternatively, you can replace the lower collar and make it not from fur, but, for example, from suede of the same color. You can also do with the chin and cut it out of suede, leather, or other alternatives. All of these processing methods save a little money and give some freedom of choice, and in some cases they just help out with a lack of fur.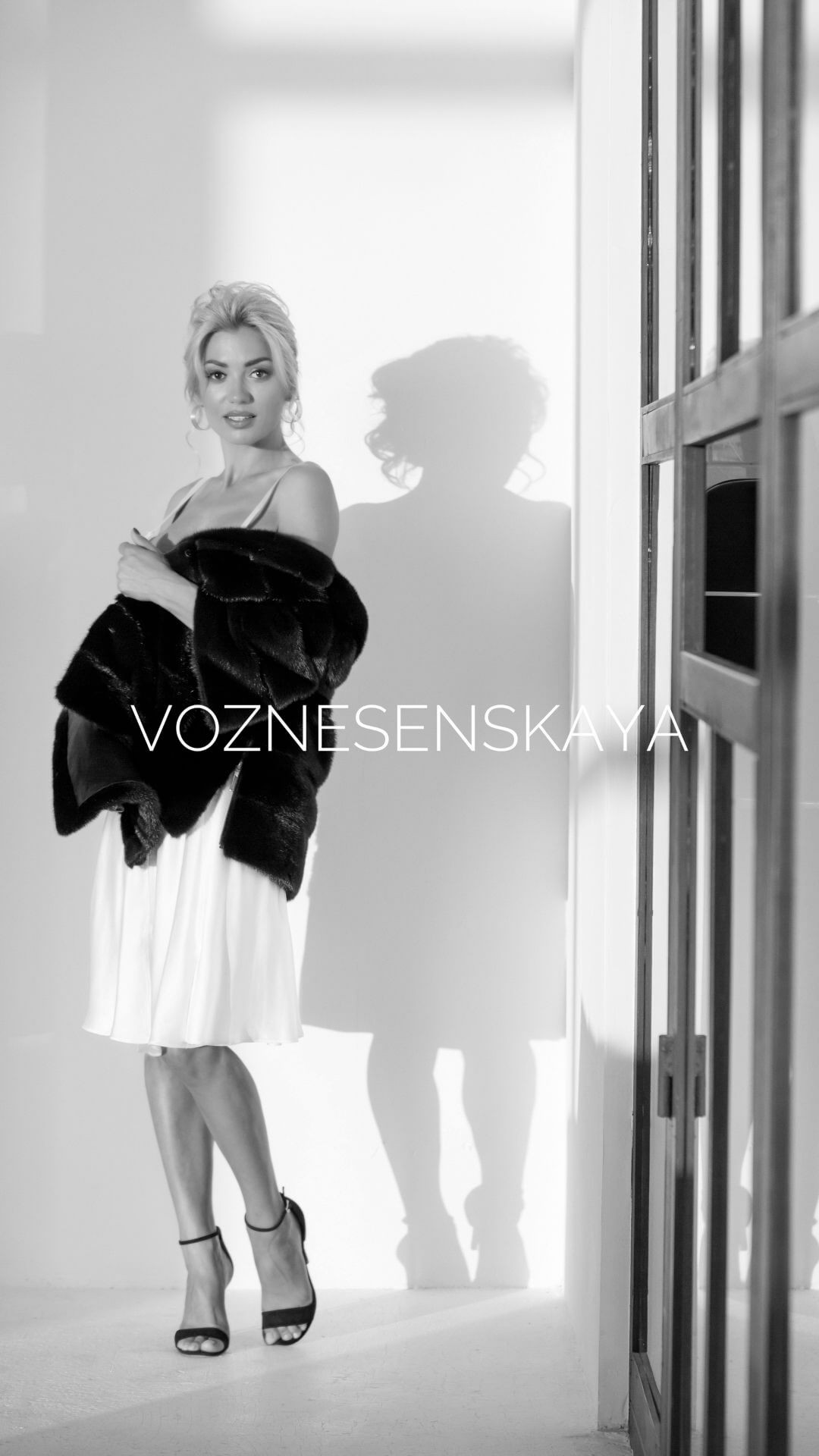 Fur of males or females - what to choose for sewing mink fur coats
Many people wonder what to prefer for a fur coat: fur of males or females. The choice is usually determined by the following criteria: size (length, width), hair height, price. The quality of the fur is not mentioned here, since the fur of males and females is equivalent. But in terms of wear resistance, males are considered more hardy due to the fact that the skin of the male mink is several microns thicker. But for females this is not a disadvantage, rather, on the contrary, an advantage, since the product made from them is much lighter and the silhouette looks much thinner and more graceful.
A product made from "girls" will require more skins, respectively, from boys - the expense will be less. Here, the layout of the fur and the main style of the fur coat play a role. Fractional patterns, such as cross-section or figure-modeling silhouettes with undercuts, look better from the female mink: they look more harmonious with small details. But the monolithic styles of fur coats - straight or flared silhouette and having volumetric cut details, simply do not come out of small mink skins. The rule works here: the more, the better, so the use of male mink ("boys") is a necessity. The length of the mink skin is measured from the middle between the eyes to the base of the tail, the width – along a line passing through the midpoint of its length. The area of the skin is calculated by multiplying its length by twice its width.
There are also combination options. Provided that both "girls" and "boys" will be from the same batch and from the same manufacturer. But even if you manage to get exactly the color, there will still be some drop in the hair and there may be slight puffiness. Therefore, it is not recommended to mix minks of different sexes, but it is allowed to make a set of minks of the same sex of different sizes. So, the choice is yours, well, we will advise and comment on what is better to choose.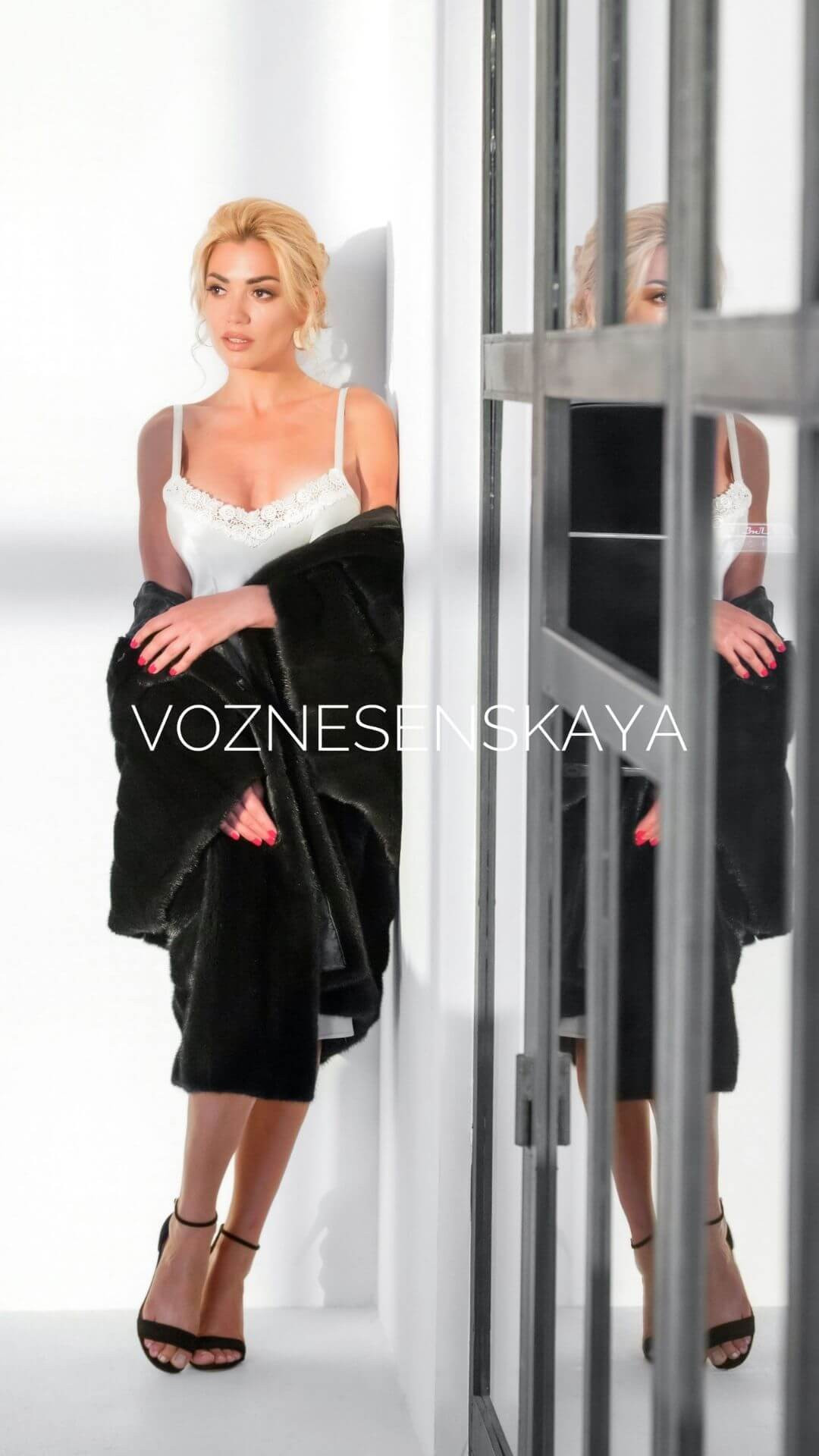 Timing of sewing mink fur coats
Considering all the above, the question of timing remains: how long will it take to prepare to sew a mink fur coat. Making a fur coat in a season will take from 14 to 20 working days. Out of season, work can be completed faster - up to 15 working days. This is subject to timely visits to fittings and the availability of all the necessary materials for work: such as, in fact, the fur itself, all the applied accessories, lining and insulation (optional). Of course, a smaller product can be sewn faster. But again, let's clarify - we are making rough calculations of the time. For example, if the dissolution, re-throwing or stitching with other fur or fabrics is carried out, then it may take more time, as with complex methods of cutting mink.
For more detailed information and answers to your questions, be sure to call our masters. You can also ask them personally to our furriers, which will help to establish the correct choice of a fur salon.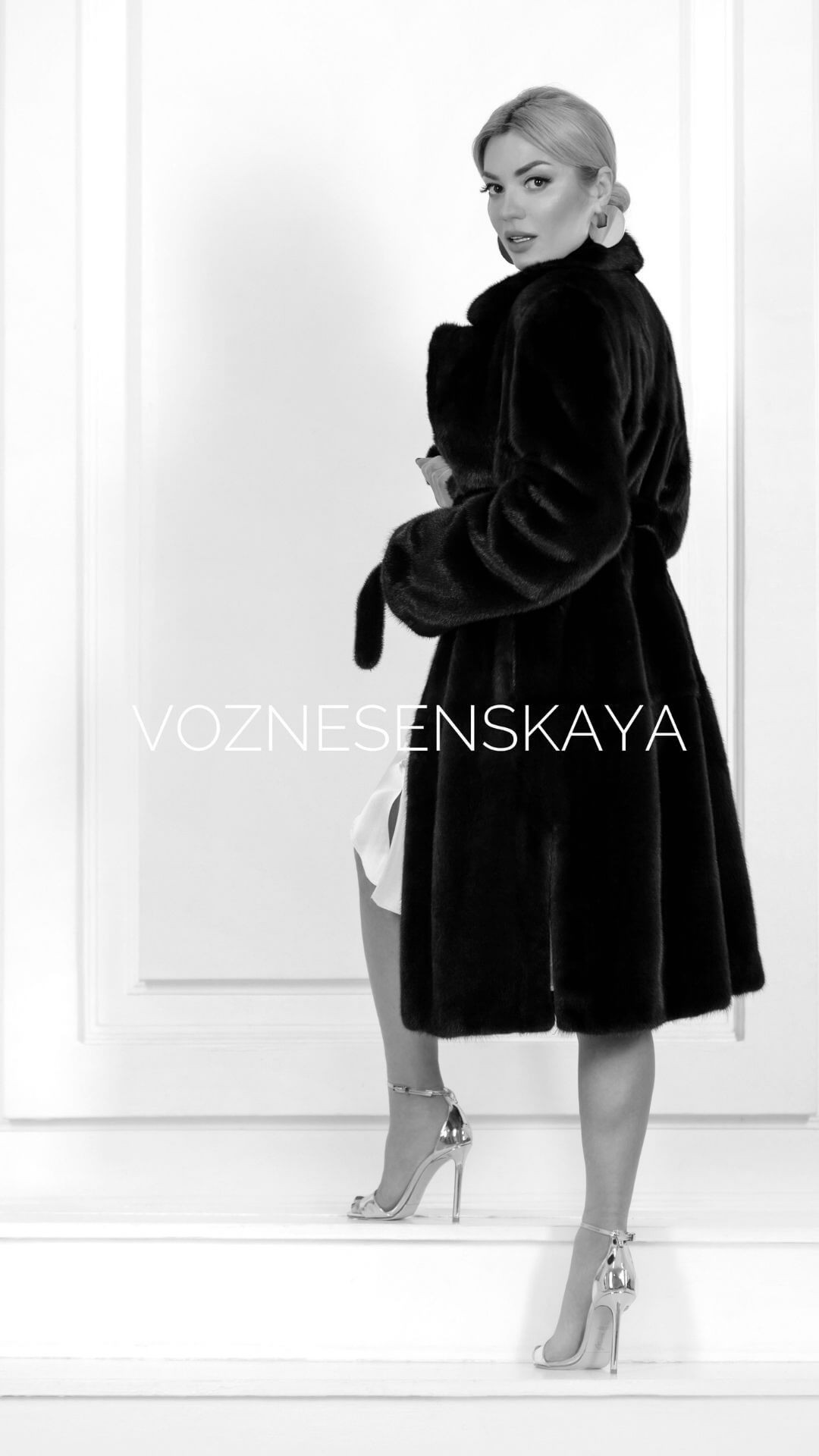 Sewing a mink fur coat - the price of the issue
Well, and the final question: the price of sewing a mink fur coat. How much does such a service cost? – how to tailor a mink fur coat? The full and exact cost, of course, will be determined after the approval of the style and your visit to our studio. Generally speaking, the work itself will cost from 20,000 to 30,000 UAH. Again, everything will depend on the model and length of the fur coat, the use of complicating elements.
Sewing a mink coat is a very difficult job that requires maximum responsibility and significant knowledge in this area. Trust such work only to real professionals with vast experience. The cost of the work of a professional furrier is directly proportional to the time spent and the effort invested.
The specialists of the Voznesenskaya Flagship House of Fashion are always ready to advise you and, of course, will show their professionalism when ordering sewing of a mink fur coat from us. Even for the most demanding customers, we will definitely select and sew the best option. Call us today and come to our ateliers!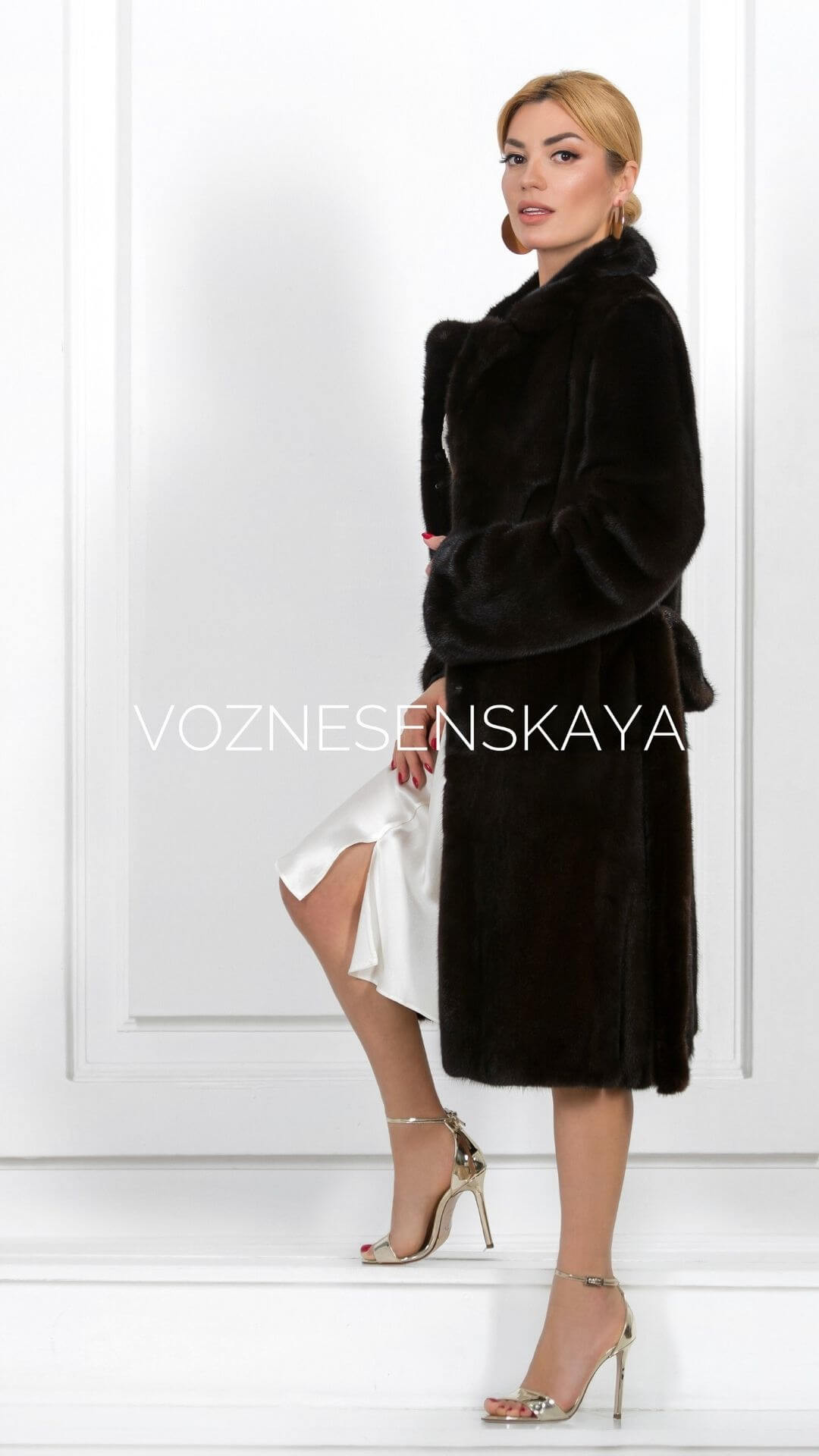 Prices for Sewing mink fur coats
The price list may vary depending on inflation in Ukraine and the complexity of the work. The exact price is approved only in the salon.
| Service | Gold master | Platinum Master | Exclusive |
| --- | --- | --- | --- |
| Service | from 0 UAH | from 0 UAH | from 0 UAH |
| Service | from 0 UAH | from 0 UAH | from 0 UAH |
| Service | from 0 UAH | from 0 UAH | from 0 UAH |
| Service | from 0 UAH | from 0 UAH | from 0 UAH |
| Service | from 0 UAH | from 0 UAH | from 0 UAH |
| Service | from 0 UAH | from 0 UAH | from 0 UAH |
| Service | from 0 UAH | from 0 UAH | from 0 UAH |
| Service | from 0 UAH | from 0 UAH | from 0 UAH |
| Service | from 0 UAH | from 0 UAH | from 0 UAH |
The price list may vary depending on inflation in Ukraine and the complexity of the work. The exact price is approved only in the salon.