Individual tailoring of women's coat in the studio «Voznesenskaya» — unique, irreproachable, emotional.
Do you like exquisite things that emphasize your character, personality and status? Our tailors sew just such exceptional products that arouse interest and admiration.
Womens coats — this is a huge field for design experimentation. You can choose any material suitable for sewing a coat:
Fine cloth chanel;
Gabardine is a finely ribbed cotton-based fabric;
Lace fabrics, with the addition of fur trim;
Boucle coat;
Tweed is a timeless classic;
Cashmere is noble and austere;
The drape is durable and resistant;
Cotton is dense with an admixture;
Organza for summer evenings;
Jacquard weaves;
Fur and leather;
Svakar, mirrored bean, broadtail;
Alligator and piglet skins, snakes and their replicas;
Companion fabric for expanding the coat or completing a design idea;
High quality synthetic fabrics;
Worsted, fine cloth, double-sided, raincoat, coarse cloth.
You can decorate the product as you like:
Weaving;
Chain;
Ribbon;
Pearls;
Beads;
Rhinestones;
Decorative buttons and crochet hooks;
Leather or fabric inserts;
Decorative hand stitches.
Fabrics and accessories are purchased from world leaders in textile production:
Drapers;
Guabello;
Ferre;
Cerruti;
J & J Minnis;
Missoni;
Fox Brothers;
Valentino;
Loro Piana;
Colombo;
H. Lesser;
Caccioppoli;
Harris Tweed;
Ariston Napoli;
Joshua Ellis;
Brisbane Moss;
E. Thomas;
Bower Roebuck;
Harrisons of Edinburgh;
Holland & Sherry;
Lanificio di Pray;
Fratelli Tallia di Delfino.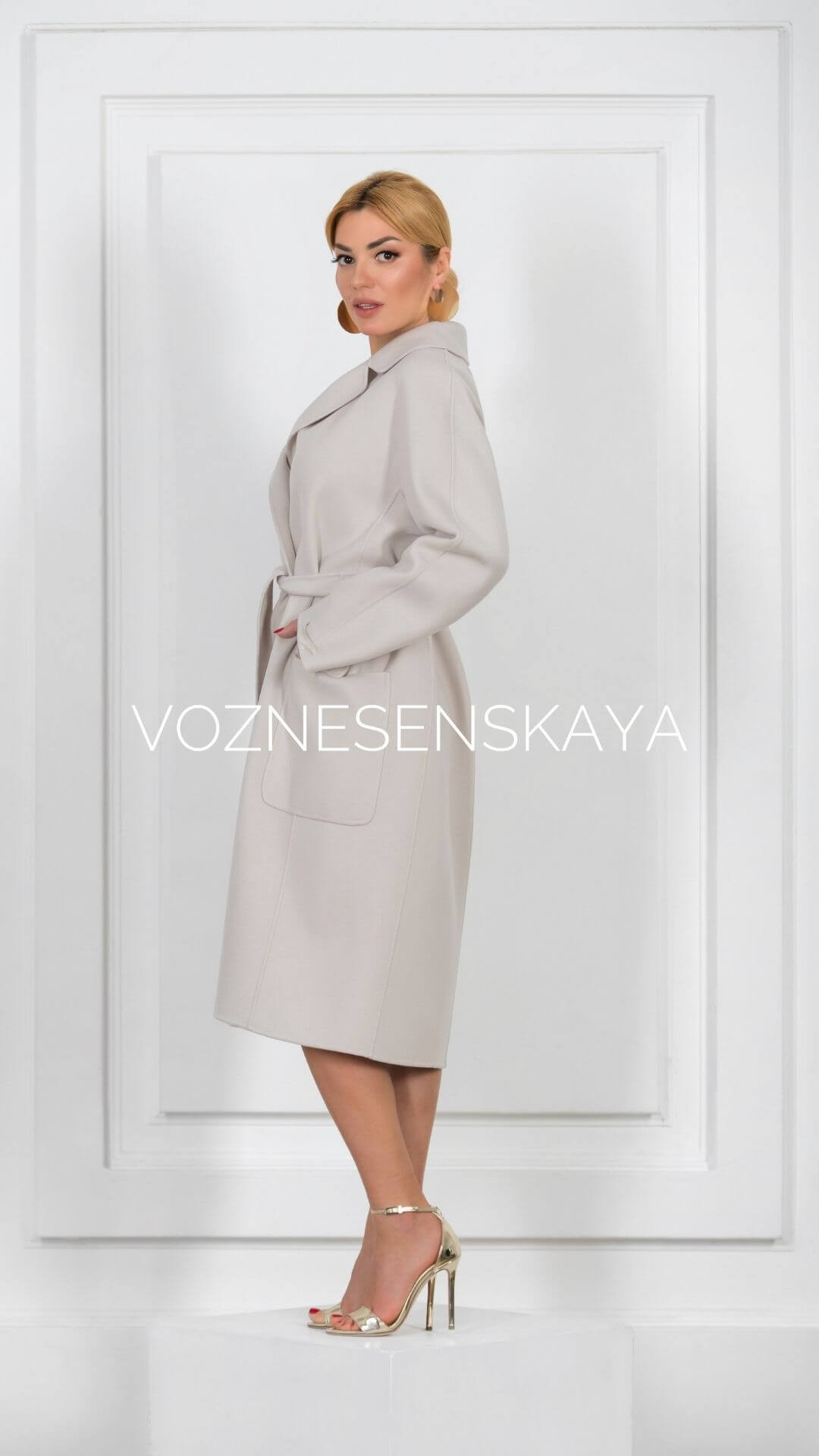 Stages of individual tailoring of a women's coat
Everyone has their own preferences regarding fabrics, styles and accessories. Sometimes clients describe to the smallest detail how the product made for them should look like. Others, on the other hand, have complete confidence in the tailor and our atelier for the preliminary design. In both cases, we will sew the perfect women's coat that will satisfy the client. In confirmation of the quality of the work performed, we provide a product warranty for at least 3 years.
The whole process looks like this:
The client answers the questions of the brief online or in person. We specify the type of product, style, wishes;
Measurements are taken in vip fitting rooms with mirrors that provide an overview of the 360°, or the client himself gives the data online. The second option is possible and is actively used by the atelier masters, but the first is preferable — due to its higher accuracy;
Sketch work begins. The designer makes the sketches of the model as realistic as possible. The product is drawn with a view from all sides;
Work is underway to create a layout. The client can evaluate the main details and style of the product before starting sewing;
The product is being sewn.
The atelier sews any things at the request of the client. Consider the popular types of women's coats:
Analogue of branded coats. We sew full-fledged copies from the same material as the original, or create modifications based on the wishes of the client. It is possible to sew from chanel woven fabrics with elements of handmade decors along the edges of the edging, on the pockets and other details of the coat. We also perform a one-to-one repetition of your favorite coat;
Overcoat. Formal double-breasted coat with 8–16 buttons. Classic overcoat length — below the knee, modern models may be shorter. Mostly dark, practical colors are used: black, dark blue, dark green, dark beige, gray, etc. The collars can be different: standing, turn-down and standing-turn-down. Lapels may not be present in modern models, but in classic ones they are always present. The size of the lapels is large, sometimes they have a loop-cut. The style is always fitted, a functional belt or a back strap is allowed. Shoulder straps (epaulettes) can be used as a decorative element. Sleeves with or without cuffs;
Trench coat. Double-breasted coat with 10 buttons. Popular colors: different shades of beige, white, light brown tones, less often — blue, khaki, green. The coat contains epaulettes (shoulder straps), a high collar, a gun valve, a belt with a buckle, long cuffs, deep welt pockets, a yoke, a D-buckle, a slot;
Chesterfield. Single-breasted coat with three buttons. Popular colors: light and dark gray, different tones of brown, beige, products also come in two colors, in a cage. The cut is straight, the lapels and collar are small, even, sometimes with fur or velvet. Sleeves — ¾ or long. Slit pockets, with flaps, less often — без. Model without seams at the waist or darts in the front, sleeves without cuffs;
Duffle coat. Single-breasted coat with three to four canine buttons. Popular colors: blue, red, beige, brown, light blue, etc. Since the duffle coat has an informal design and is popular among young people, catchy, bright and very diverse colors are often used. The cut is straight, wide, it can be called bag-like or oversized. The coat is sewn with a deep hood that has one or two buttons for better neck protection. The classic duffle coat is made from 100% wool, but modern models often have synthetic impurities that make the product more durable and elastic.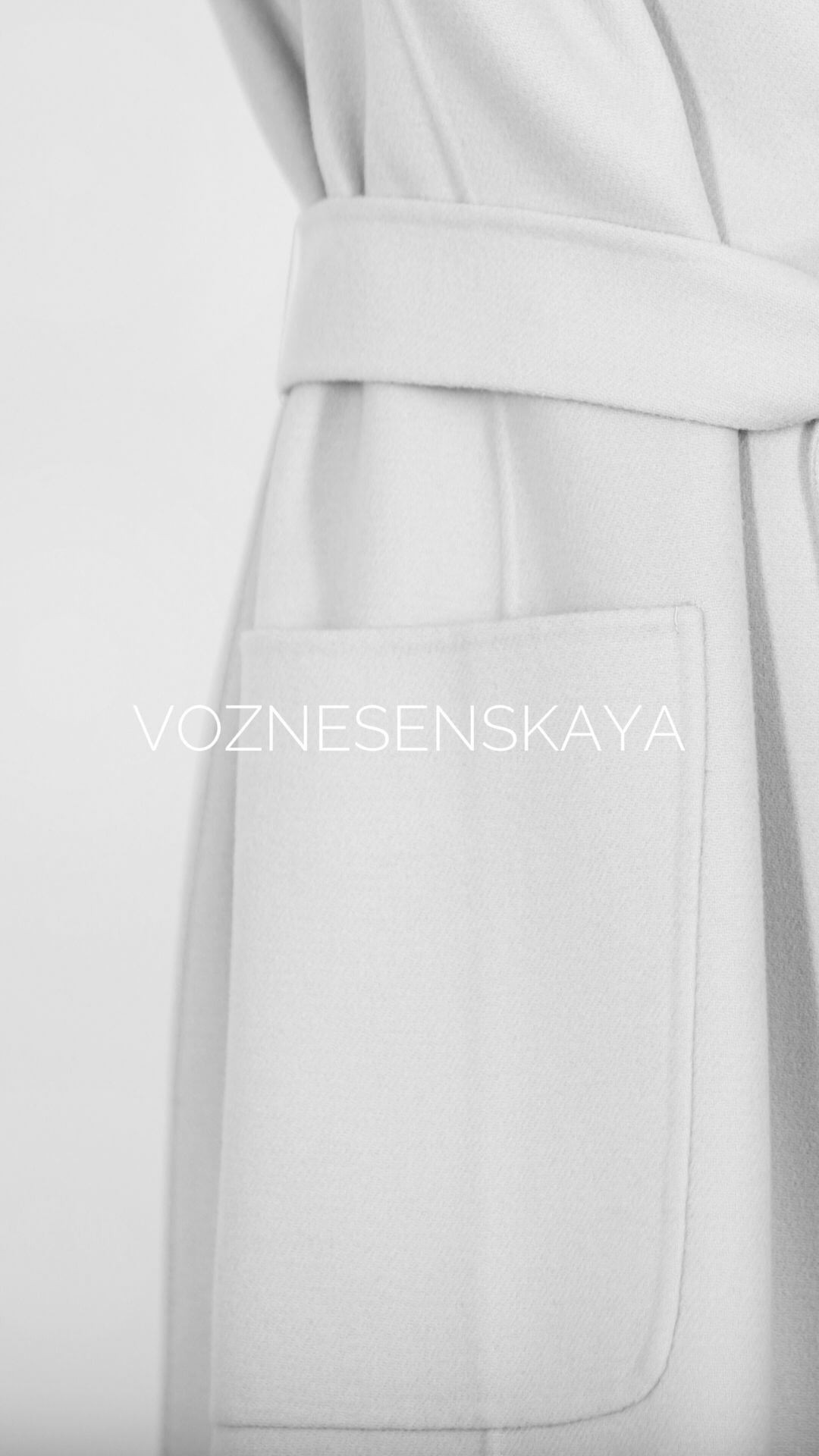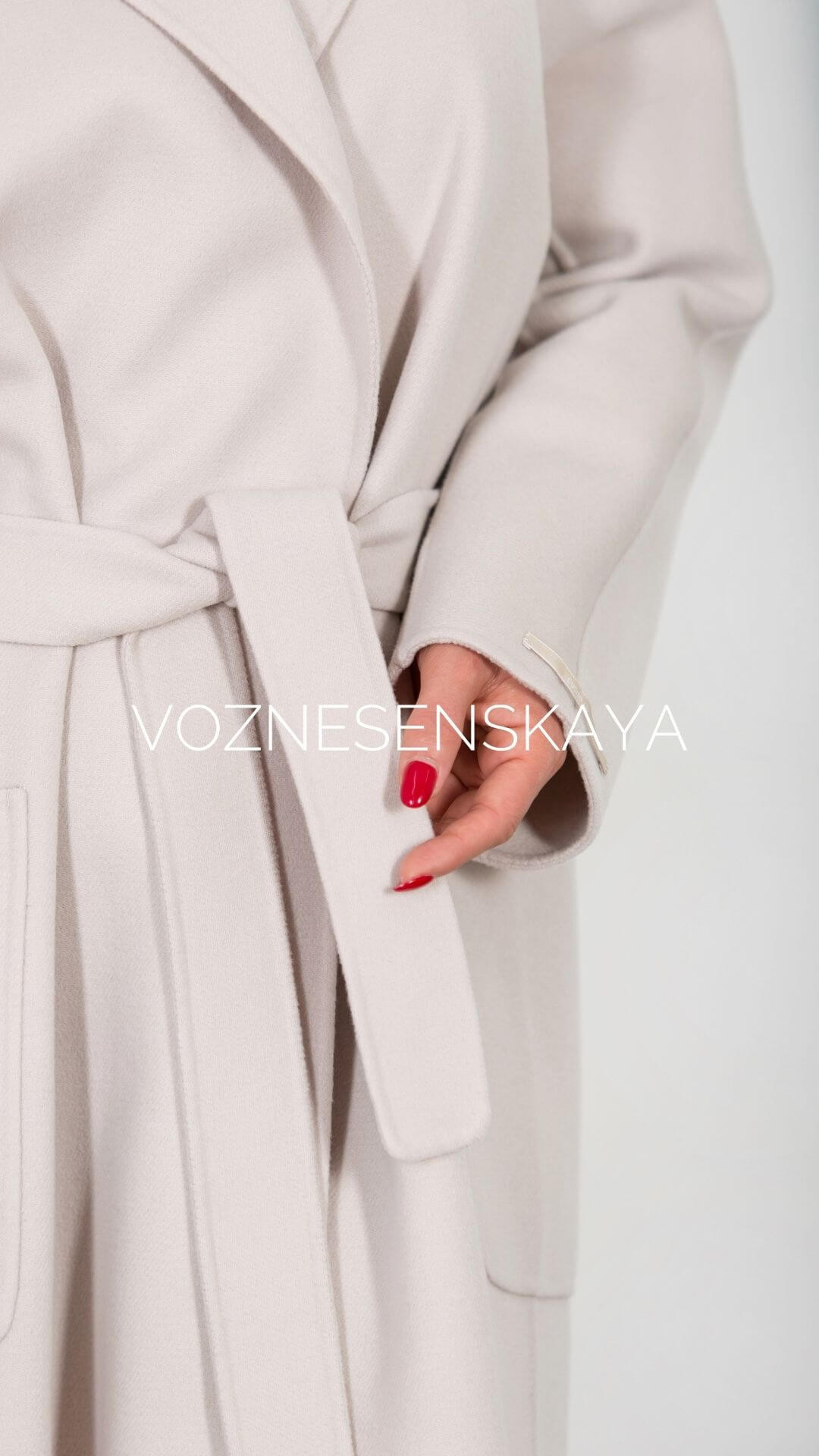 Exclusive solutions for tailoring women's coat
A VIP-level tailor is engaged in individual tailoring of an analogue of a branded coat or the creation of a designer model. A specialist not only knows how to sew a beautiful product, but also understands how this or that fabric will behave during wear. In addition to the beauty of the product, this guarantees its convenience and durability.
Notes:
Instead of duplicating the interior, a tailor can use glueless treatments such as organza on branded fabrics;
The atelier uses the popular seamless coat technology «Max Mara»;
For coats made of soft ecoplastic, a unique soldering treatment is applied, including a seamless version.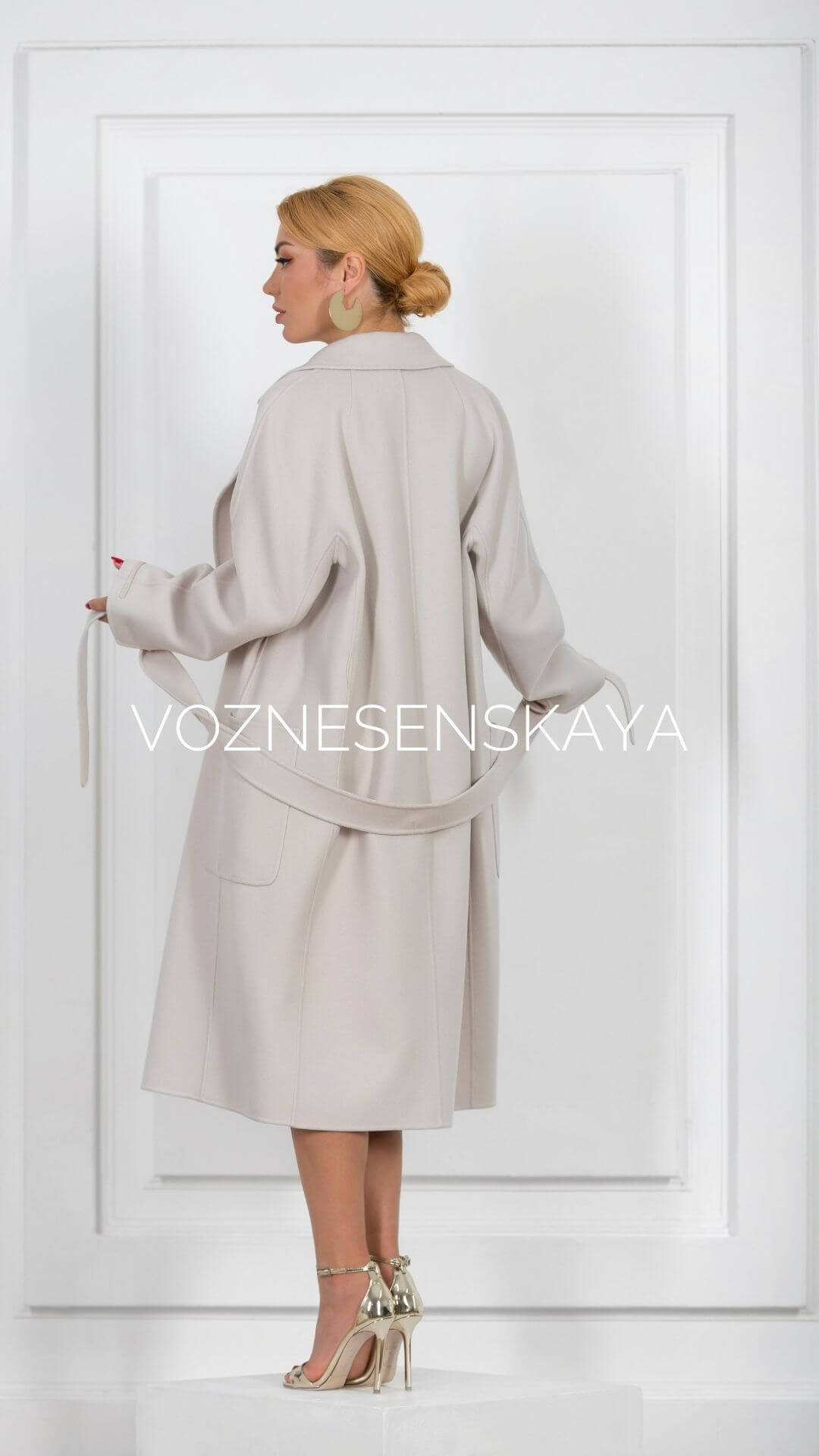 Order of sewing a women's coat at the Voznesenskaya Fashion House
If you are interested in individual tailoring of women's coat other cuts, ask our tailors for help. At the Fashion House «Voznesenskaya» will take into account your wishes and approach the matter with maximum efficiency.
After the coat is sewn, it is covered by a 3-year warranty. Address delivery is possible. During the operation of the product, you can contact us for dry cleaning or repair.
Call us! Ask questions!